As you may already know, a transporter is a motorised wheelbarrow: a multi-purpose tool that can be used professionally or for leisure, to facilitate farming and gardening tasks by transporting wood or construction materials.
There are different models of tracked transporters, on the market. For example, the Oleo-Mac CR 560 is perfect for professional use, while the CR 340 K, like all compact transporters, is great in the countryside for collecting firewood in a forest, or even spending your weekends renovating an old house in the mountains.
But what makes a tracked transporter so advantageous compared with a handbarrow? Let's find out together in the following paragraphs.
1. Work even on steep slopes and rough terrain
The beauty of transporters is that they transport loads uphill and downhill without making you sweat: simply drive them using the controls located near the handles. The maximum gradient that a tracked Oleo-Mac transporter can climb is 17%, equivalent to an angle of 10°. Transporters are therefore just as handy in hilly areas as they are in the mountains. Another scenario in which transporters prove to be irreplaceable is moving materials over rough terrain littered with depressions and bumps, or covered with stones, protruding roots, branches and rubble.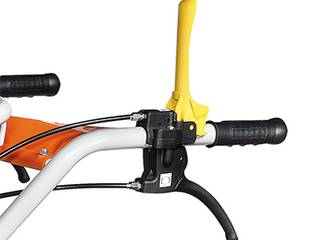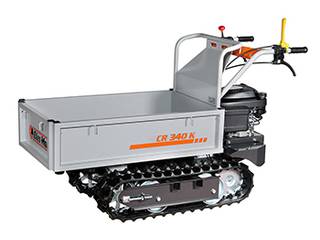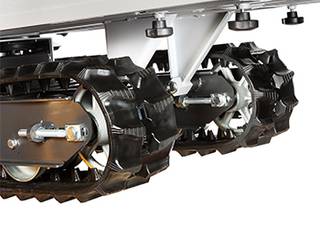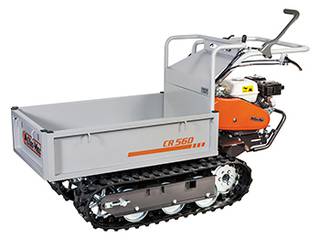 2. Effortlessly transport heavy or bulky loads
Whether you want to transport pieces of wood or materials and tools for farming, gardening or building work on sloping or uneven terrain, tracked transporters offer different load capacities thanks to their large, robust tipping platform with expandable loading deck. The Oleo-Mac CR 560 professional transporter can carry up to 550 kg on its 100x65 cm platform, which is expandable to 118x110 cm and has a 50° tipping angle. By contrast, the CR 340 K compact transporter can carry up to 350 kg on a 93x52 cm platform, expandable to 106x90 cm and with a 45° tipping angle. Furthermore, if you are transporting especially bulky material, you can raise the sides of the loading deck using appropriate accessories for tracked transporters.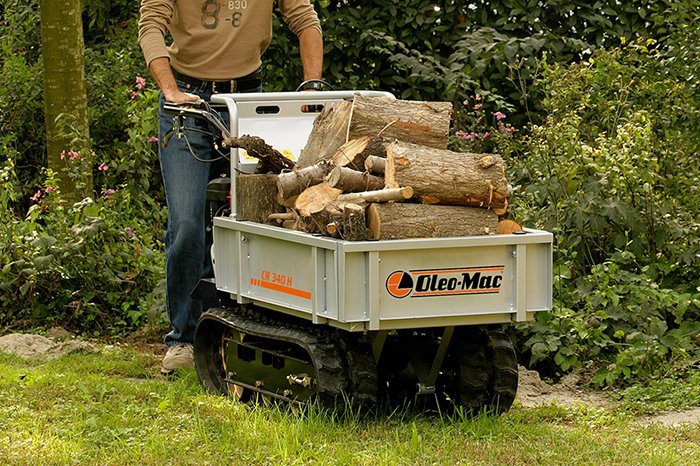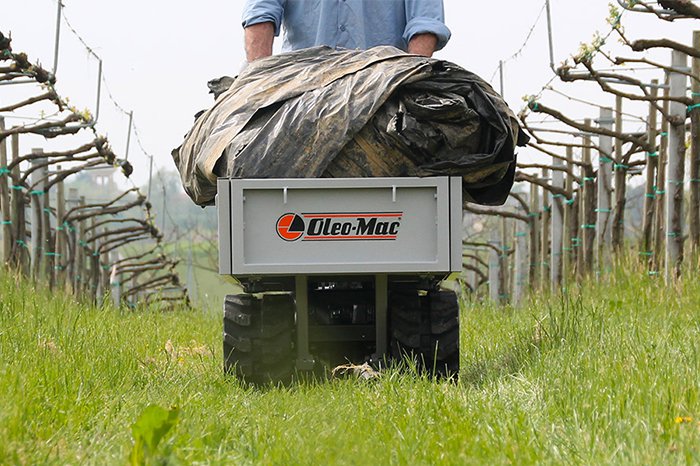 3. Safely move loads in any environment
Tracked transporters are an essential aid for safely transporting heavy or bulky loads on sloping and rough terrain. But to make their job even easier, you should plan your route in advance, avoiding roads as transporters are not road-legal. Favour a route with fewer obstacles, gentler slopes and no low-hanging electrical cables, with stable and non-slippery surfaces (for example, avoid ploughed or gravelly surfaces).
Keep people and animals at least 15 m away from the transporter, or 20 m if travelling downhill, and make sure no one is standing in front of the vehicle. Respect the transporter's maximum load capacity and balance the load: it should be centred and distributed over the largest possible surface of the deck. Ensure that the load does not protrude from the platform or stick up too high and obscure your view.
Secure the load firmly to the transporter, for example with rope, so that it does not fall or slide around, thereby unbalancing the machine and even covering the controls. When the transporter is on the move, keep it at a constant speed, turn corners gently and avoid sudden braking or acceleration.
Maintain a slower speed on sloping or rough terrain, in both forward and reverse gear: the CR 560 can travel at 1.88 km/h in its lowest gear, or 1.86 km/h in reverse.