When it comes to spraying vegetation in rural, urban or agricultural settings, we make your life easier.
If you want professional results, Oleo-Mac's new AM 163 mistblower is the answer!
With its ULV distribution system, which calibrates the atomisation of sprayed liquid, and diffuser cone, which is easily adjustable without having to turn off the machine, you can keep working while you adapt the outgoing flow to suit the volume of crop to be treated.
The adjustable handle meets your needs by allowing longitudinal movement and rotation of the telescoping blower tube, thereby also making it ideal for storing in confined spaces.
As always, comfort really matters to us, so the AM 163 has a practical anti-vibration system that significantly reduces oscillations, allowing the operator to work comfortably and for longer.
Besides all this, you also get first-rate performance: the built-in booster pump guarantees that.
The AM 163 can be purchased from our authorised dealers.
Discover the AM 163, you won't be disappointed!
Backpack mistblowers
AM 163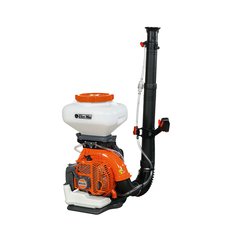 Displacement 61.3 cm³
Liquid delivery rate 0.67 ÷ 5.15 L/min
Liquid tank capacity 16 L