The insistence on staying ahead of the game led to the conception of the new BC 241. The Oleo-Mac lightweight brushcutter equipped with the revolutionary Speed&Go head, which makes it possible to reload the line in just 10 seconds by means of 3 easy moves.
Recommended for finishing and edge trimming operations, model BC 241 is the perfect tool not just for jobs around the garden, but also for maintenance very large open spaces.
Thanks to the ergonomic handgrip, which assures optimal reduction of vibration transmitted by the engine, this tool guarantees exceptional comfort and high performance for both occasional jobs and professional activities. For high precision and low noise cutting.
Multifunction brushcutters
BC 241 D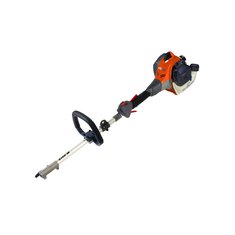 Power/Displacement 1.2 HP - 0.9 kW/21.7 cm³
Weight of engine unit 4.2 Kg
Grip single
Lightweight brushcutters
BC 241 S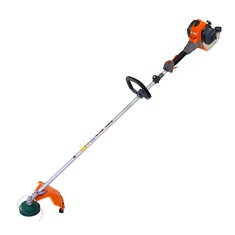 Power/Displacement 1.2 HP - 0.9 kW/21.7 cm³
Cutting components 130 mm dia.
Dry weight without cutting tools 4.5 Kg
Lightweight brushcutters
BC 241 T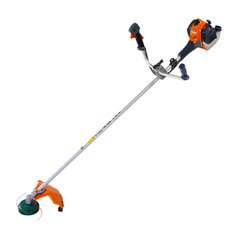 Power/Displacement 1.2 HP - 0.9 kW/21.7 cm³
Cutting components 130 mm dia
Dry weight without cutting tools 5.2 Kg