People like you, whose job or hobby involves pruning and felling trees or maintaining green spaces, know that specially designed forestry workwear is essential. In addition to practicality, this type of clothing guarantees maximum protection when working with chainsaws, pruners and other sharp tools. It is not only a question of common sense, but also a legal requirement under occupational safety regulations.
Protective forestry workwear
Professional protective clothing for tree cutting and pruning in woodland environments is not simply technical clothing that is especially tough and comfortable, but a set of personal protective equipment. To guard against the risk of being cut by moving chains on chainsaws and pruners, it is necessary to wear trousers, dungarees or leggings with chain-resistant padding and safety boots with blade protection – which we will discuss in the following paragraphs – as well as professional chain-resistant gloves, an anti-cut protective jacket with high visibility colours, and a protective helmet with visor for the face and eyes, plus integrated noise filtering ear defenders.
Chain-resistant trousers, work leggings and overalls
The workwear you choose must allow you free and fast movement, visibility even in less than optimal conditions and, above all, adequate protection against cutting. Chain-resistant protective clothing is designed to resist cutting by chainsaw or pruner chains up to a certain speed, so it is essential to choose protective clothing with a protection class corresponding to the chain speed of the tool you are using.
Chain-resistant clothing fabric consists of synthetic fibres with high tensile strength that, on contact with the cutting edge of a chain, wrap around and block the pinion on which the chain turns, triggering the activation of the inertial brake that stops the chain from rotating.
Another basic item of forestry workwear is chain-resistant trousers. Oleo-Mac offers both Energy trousers, with special 8-layer chain protection, and Air-Light trousers with 5-layer chain protection. Both garments provide type A chain protection, covering the front of both legs, plus 5 cm inside the right leg and 5 cm outside the left leg. They are Category III personal protective equipment certified to CE EN 340 and EN 381-5 resistance class 1 (maximum chain speed 20 m/s).
Energy chain-resistant trousers have a comfortable lumbar and waist support, plus a series of orange details, in addition to side pockets, a folding rule pocket and a spark plug wrench holder. Composed of 30% cotton (in contact with the skin) and 70% polyester, they are breathable and water-repellent.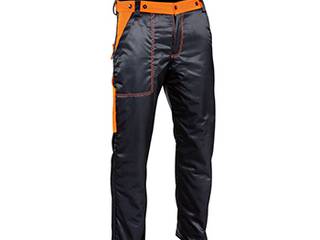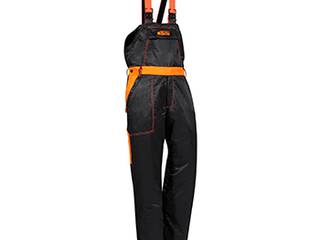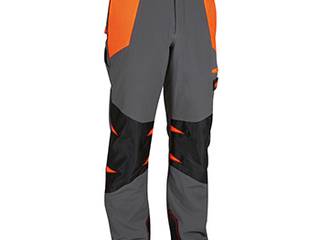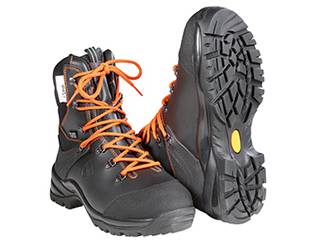 Air-Light trousers are water-repellent, antibacterial, lightweight and breathable. They are also slim fitting – thanks to the bi-stretch fabric consisting of 94% polyamide and 6% elastane – and have everything you need to work comfortably and safely: orange finishing, lumbar support, reinforced knee pads, rear ventilation zips, side pockets, a folding rule pocket and a spark plug wrench holder.
Alternatively, if you prefer wearing a comfortable chain-resistant overall to trousers, Oleo-Mac recommends the 8-layer Energy dungarees with anti-cut protection featuring adjustable elasticated braces, elasticated waist and belt loops, bib with large pocket and Velcro closure, side pockets, folding rule pocket and spark plug wrench holder.
Equally handy are the 8-layer chain-resistant leggings, also in the Energy line. They are worn directly over normal work trousers, so all you need to do is adjust the elastic waistband and close the rear zips.
Both the Energy dungarees and leggings are Category III personal protective equipment certified to the CE EN 340 and EN 381-5 standards with resistance class 1 (maximum chain speed 20 m/s). Composed of 30% cotton and 70% polyester, they are water repellent and breathable.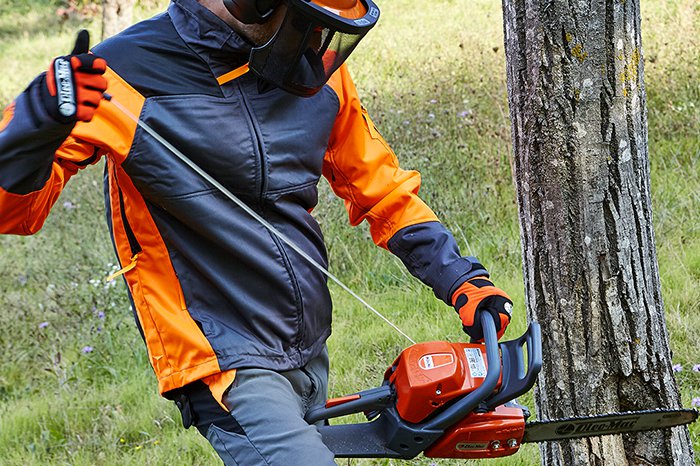 Chain resistant forestry boots
It is advisable to choose a pair of flexible and chain-resistant forestry boots because you will need to wear them all day long and, like hiking shoes, they must give you a safe foothold even along mountain trails and on steep or bumpy terrain.
Oleo-Mac offers you H2OUT chain resistant forestry boots with 8-layer blade protection on the instep up to the shin and covering the front and sides. Resistant to humidity and water, these waterproof boots have a water-repellent leather upper and interior lining in breathable non-woven fabric.
They perfectly protect the sole of the foot, thanks to a high-strength, puncture-resistant sole plate, as well as the toes, with a crushproof and cut-resistant steel toecap. The non-slip sole, which is resistant to oil, solvents and high temperatures, gives you excellent grip on every surface and effective cushioning against ground impact.
Oleo-Mac H2OUT boots are Category III personal protection equipment with class 2 resistance to chainsaw cutting according to EN ISO 17249:2013 (maximum chain speed 24 m/s).