Sustainable living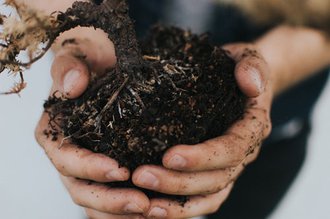 Increasingly, people are embracing sustainability as a life-style.
From the clothes we wear to the food we eat, everything expresses a fairer, more achievable way of living, aimed at preserving the integrity of the ecosystem and the environmental and economic resources of current and future generations.
It goes without saying that one of the main ways we can limit our environmental impact is by saving energy and reducing emissions of CO? into the air. But how can we be really eco-sustainable? What good habits should we introduce into our everyday home lives to help safeguard the environment? Turning down the heating and avoiding wasting water and electricity are obviously a good start, but choosing the right gardening tools can also make a big difference.
The greenest approach to gardening
If you want to look after your garden sustainably, battery-powered or mains-powered devices are the right choice for you. Because by avoiding the use of combustion engines, these machines reduce both noise pollution and environmental impact. They don't generate harmful emissions and they're outstandingly quiet. And because they generate much less vibration, they're also easier and more comfortable to use.
Mains-powered machines obviously need a power cable, but battery-powered machines don't have to be plugged in anywhere so can be transported around very large working areas. They're quick and easy to charge, thanks to the special charger, and their functionality and performance are every bit as good as those of their combustion-engined counterparts.

In recent years, with the advent of "backpack" batteries, the battery life of these devices has gone up significantly, and is now as high as 7-8 operating hours. This is a major step forward for the most demanding professionals, who tend to work continuously for long hours over wide areas.
Low-noise and zero emissions make eco-friendly machines
Which machines are available in a low-environmental-impact version and what jobs can you do with them?
Let's take a look.
For clearing, cutting and trimming plants and shrubs, battery-powered hedgetrimmers and battery-powered brushcutters are definitely a good option.
Battery-powered hedgetrimmers are remarkably easy to handle because they are free from cables, so give you complete freedom of movement. They're also equipped with top-level blades, capable of precise cutting even on hedges containing branches of medium thickness. The double switch and ergonomic handle, furthermore, make these tools particularly safe and maneuverable.
The lightest and highest-performing models include the HC 200 Li-Ion, which gets round any obstacle easily and safely. Thanks to its rugged gearbox, this cordless hedgetrimmer ensures long-lasting, effective operation.



If you're mostly a weekend gardener and you don't need long hours of continuous performance, a brushcutter might be the right tool for you. Although its runtime is shorter than that of a battery-powered brushcutter, the versatility and maneuverability of this tool are unrivaled, making it ideal for getting the job done quietly, safely and with low environmental impact.
What's our top pick? The BC 200 Li-Ion, because of its telescopic adjustment system, which enables you to cut and trim the grass very precisely, without weighing yourself down with heavier kit.
Lastly, with the help of a battery-powered chain saw like the GS 220 Li-Ion, you can prune excess branches and cut wood for the winter, without having to depend on the proximity of a mains power socket, or you can work in enclosed spaces without generating noise or harmful emissions.