Buying a lawnmower is an important investment, not so much due to the price, because you can find a lawnmower for any budget, but rather because, if you want a lawnmower that will help you with large and small mowing jobs (depending on whether you are a professional or amateur gardener), there are several factors to consider.
First of all, the levelness of the terrain you are working on: is it flat and even, sloping or littered with depressions and bumps? Then there are the technical characteristics of the lawnmower to consider: power source, power rating, cutting functions, structure and construction materials. Finally, the time you have available for mowing: this is a key consideration for everyone, and an essential business decision in the case of professional gardeners.
In the following paragraphs, we give an overview of the main factors to evaluate before buying the lawnmower that is right for you.
Power source: electric or petrol engine lawnmower
The first decision you need to make concerns the power source, because it is directly related to the lawnmower's power rating, and therefore the environment and the type of work that it is recommended for.
Lawnmowers with petrol engine are the most powerful type, and are therefore suitable for working on large and very large areas. The petrol engine lawnmower series is extensive and includes models for both professional and amateur gardening. If you are interested in motor-powered lawnmowers, you can learn more about them in the following paragraphs.
Ideal for small-medium gardens, electric lawnmowers are lightweight and quiet running, manoeuvrable and fairly compact. Take the Oleo-Mac K 35 P , for example, which is suitable for lawns up to 300 m²: it has an ABS structure, 25 L grass catcher and 3 cutting heights (20, 36 and 52 mm), all for an extremely light weight (approximately 12 kg).
Propulsion system: push-type or self-propelled lawnmower
The difference between a push-type lawnmower and a self-propelled lawnmower lies in the machine's manoeuvrability and the effort expended when mowing. Self-propelled lawnmowers offer the highest performance: Oleo-Mac has several to choose from, all equipped with a 4-stroke petrol engine.
But if you work on flat areas up to 1,400 m² without depressions and divots, a push-type lawnmower is still an excellent solution. A good is example is the Oleo-Mac G 44 PK COMFORT PLUS: 4-stroke, 140 cm³ engine, steel frame, 41 cm cutting width, 70 L grass catcher and wheels with bearings for smoother travel.
Alternatively, if you mow areas with tall, stubborn grass or work on extensive, sloping areas or terrain littered with depressions and bumps, the optimal solution is a self-propelled lawnmower. Oleo-Mac produce self-propelled mowers with up to several speeds.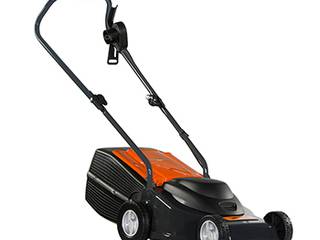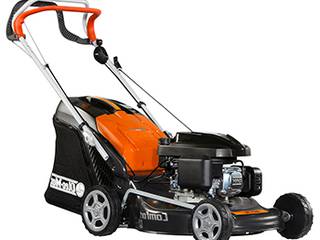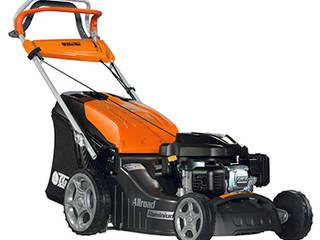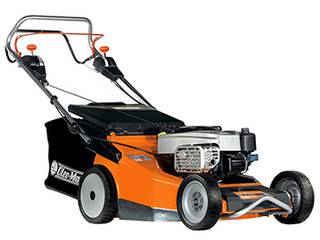 Among the single-speed self-propelled lawnmowers, with a top speed of 3.6 km/h, is the G 53 TK COMFORT PLUS model with 4-stroke engine and 159 cm³ displacement, 70 L grass collector, adjustable cutting height from 28 to 75 mm and 51 cm cutting width: perfect for gardening enthusiasts who need to mow lawns up to 2,000 m².
Another single-speed self-propelled lawnmower is the G 48 TK ALLROAD PLUS 4: a mulching lawnmower equipped with additional cutting functions besides mulching: collection, rear discharge and side discharge.
Lawnmowers for professionals and the most demanding enthusiasts
If you require a professional-grade lawnmower in terms of strength, performance, reliability and durability, you could opt for the Oleo-Mac G 53 TK ALLROAD EXA 4. A powerful engine with 196 cm³ displacement and a cutting system with 4 functions: collection, rear discharge, side discharge and mulching.
As an alternative to lawnmowers with a steel deck, you can choose one made of aluminium. Aluminium is lightweight but at the same time particularly robust and durable: the Oleo-Mac catalogue contains different mowers with a 4 mm thick die-cast aluminium frame, such as the MAX 48 TK ALLROAD ALUMINIUM and LUX 55 TBI professional lawnmowers.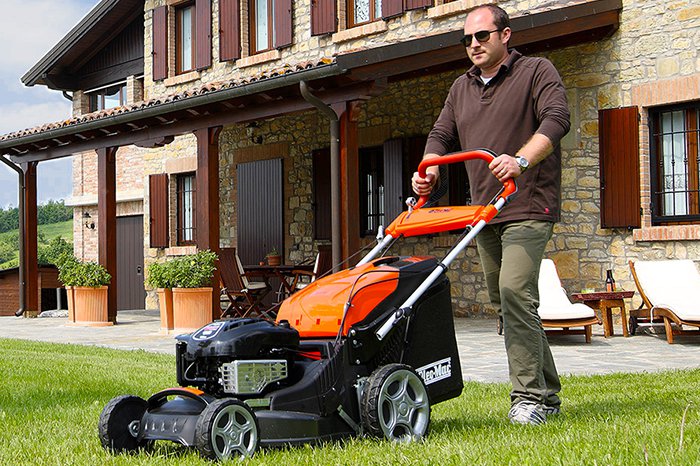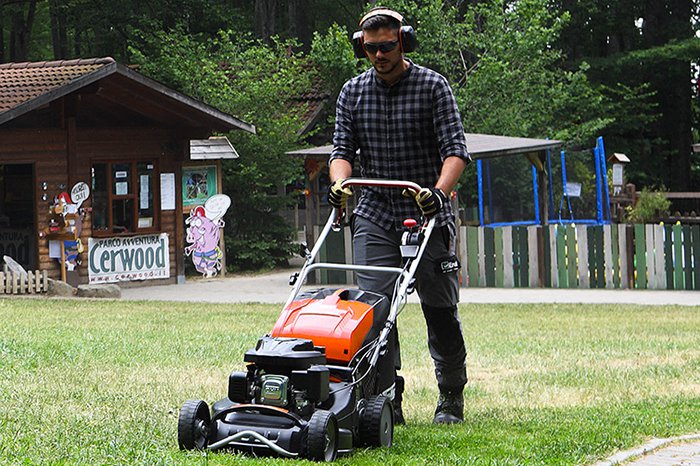 The Oleo-Mac MAX 48 TK ALLROAD ALUMINIUM professional lawnmower comes with a mulching cut system as standard but, if you prefer to collect the grass, with the 80 L basket you can keep mowing for a long time. You can cut areas up to 2,200 m² – also thanks to the ball bearings that help you get around smoothly on every type of terrain – and use the centralised control to adjust the cutting height through 5 positions from 28 to 75 mm.
The LUX 55 TBI is one of the top-of-the-range Oleo-Mac models: it has 3 speeds with a top speed of 4.5 km/h and an aluminium deck and wheels. Robust and equipped with a 190 cm³ displacement engine, it is a professional lawnmower suitable for intensive and continuous use on lawns up to 2,600 m². It also has an excellent load capacity thanks to the 80 L grass catcher: even wet grass is no problem for this machine.