Do you often use a lawnmower to eliminate weeds, or a brushcutter to clear brambles? When you need to remove stubborn vegetation in the countryside and in undergrowth, especially over very large or uneven surfaces, a flail mower can be an even more effective alternative to a lawnmower or brushcutter.
Today we talk about flail mowers: how they work, what jobs they do compared with other machines, and when and where to use them. This article does not focus on flail mowers configured as tractor or two wheel tractor accessories; instead we talk about self-propelled flail mowers, standalone machines tailored to people like you who work on small to medium-sized plots.
What is a flail mower and why use one?
As the name suggests, a flail mower cuts and shreds all vegetation it meets on the ground: tall and tough grass, weeds, brambles, small and medium-diameter shrubs, reed stems, crop residues and pruning waste, including vine shoots (specifically cuttings). With a flail mower, you can clear an area of ground by pulverising the vegetation into fragments for faster decomposition.
Therefore, flail mowers cannot be defined as a gardening tool, but rather as an agricultural tool. Flail mowers are not designed to be precise, so they cannot provide the same aesthetically pleasing cut you get with a lawnmower or brushcutter. However, their real strength is the bladed rotor that razes and roughly shreds dense and thick vegetation, even over vast areas, with a level of efficiency that rivals best-selling brushcutters and lawnmowers.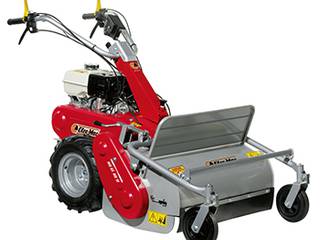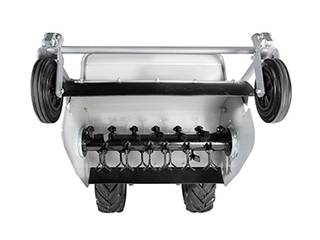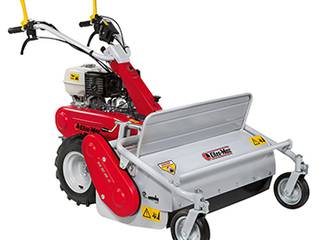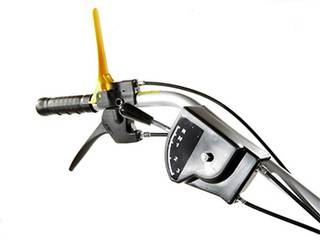 Oleo-Mac offers a series of professional flail mowers, including the WB 65 HR 11 and the WB 80 HR 11. At their heart is a robust rotor with blades that function completely differently to the blades of a lawnmower, as we mentioned above. These models are respectively armed with 38 and 46 Y-shaped blades that can cut and shred within a width of 65 and 80 cm per pass. They do much more than a professional lawnmower, which cannot tackle shrubs, brambles, reeds, pruning debris, crop residues or other tough vegetation.
Flail mowers are also superior when it comes to clearing a large surface area of vegetation. A professional model such as the WB 65 HR 11 or WB 80 HR 11 can easily manage up to 5000 m2, which is twice what you can do with a good professional lawnmower. Similarly to lawnmowers, on a flail mower you can instantly adjust the cutting height from 2 to 8 cm using a centralised control.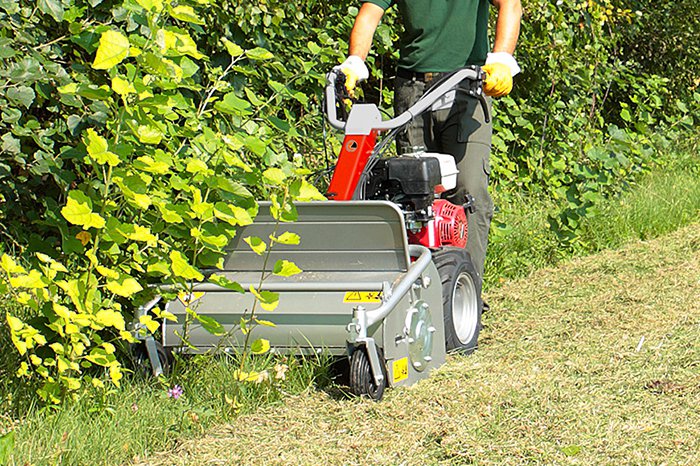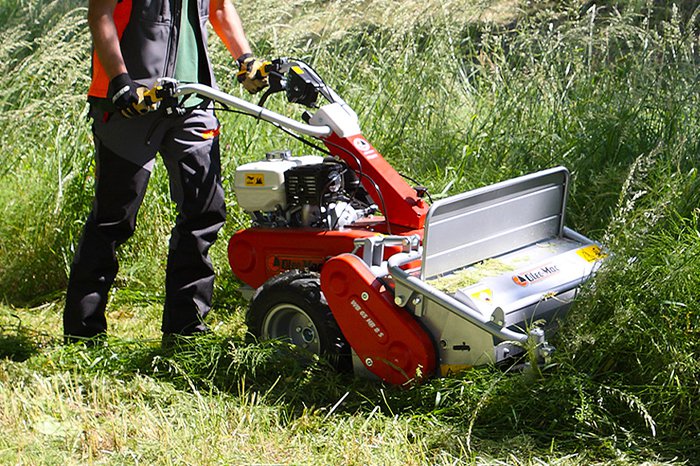 When and where to use a flail mower
In summary: with a flail mower you can reach places that other mowing equipment can't, no matter how powerful and manoeuvrable. And at the same time you expend less time and effort because with a flail mower:
You have a compact machine that is easy to manoeuvre. In the case of the Oleo-Mac WB 65 HR 11 and WB 80 HR 11 professional flail mowers, manoeuvrability is also facilitated by the adjustable handlebar with 4 height and 5 lateral settings.

You can cover large areas twice the size that any lawnmower can cope with.

You can eliminate all types of vegetation, from tall, stubborn grass to twigs left on the ground after pruning.

You can also climb sloping ground without the physical effort required when carrying a brushcutter. This is because flail mowers are self-propelled, which means that the engine transmits driving force to the wheels: in particular, the WB 65 HR 11 and WB 80 HR 11 have 3 forward gears—capable of reaching up to 3.4 km/h—in addition to a reverse gear.

You can also work on uneven surfaces: the large rear wheels with sculpted tread can easily traverse any surface, included broken ground littered with holes.