After September's Indian summer, October takes us into the heart of autumn, while treating us to a final few sunny days. It is a season in which plants are tired after a productive summer and preparing for the vegetative rest period.
There's no rest for us gardeners, however, because this is a busy season of preparing for winter and the following summer. So, let's see what needs to be done in the garden and vegetable patch during October.
The garden: clearing, weeding and transplants
Following the heat of summer, cooler temperatures and rainfall on garden flower beds between September and October bring different plants back to life. Weeds also return with a vengeance, so until the end of October, dedicate some time to weeding in order to keep your flower beds clear: manual weeding is admittedly time-consuming, but pays dividends in terms of effectiveness.
You can also clear flower beds by snipping dried vegetation from all of your herbaceous perennials, and removing any withered roses in your rose garden. Continue cleaning your garden by removing faded flowers from shrubs and pruning dead or broken branches on shrubs, hedges and trees.
Bear in mind that the dry aerial part of perennials can provide winter protection to roots, from which the plants will sprout again in spring. This is especially true in colder areas and for delicate, less hardy species. Roses and other garden plants can be protected from the cold by making a mulch, for example with natural material (dry leaves or grass, bark, straw, compost etc.). Mulching around the base of plants also provides suitable protection for delicate trees and shrubs, i.e. those that are more sensitive to low temperatures, or which you have recently planted. Find out which materials make the best mulch in our article on mulching: the best way to do it.
At the end of the month, scarify and nourish the soil around perennials, spreading fertiliser carefully and mixing it into the earth with a hoe. you can also use a spade or hoe to displace soil around shrubs and hedges, being careful to avoid the roots, and replace it with organic matter (manure, compost or pelleted manure).
Which garden plants and flowers should you plant in October? The first half of the month is the best time of year to plant perennial and biennial herbaceous plants, so that they have plenty of time to take root ahead of spring. You can also plant ericaceous plants and the bulbs of summer bloomers such as hyacinths, daffodils and tulips. In rose gardens, the end of October is also a good time for introducing new rose plants.
If you have flower beds dedicated to seasonal herbaceous plants, in October you should remove the remains of those that have reached the end of their life cycle, then till and fertilise the soil ready for transplanting spring- and summer-flowering annuals and so on: they will need a substrate rich in organic matter, so that both the roots and flowering aerial part will develop quickly. If your flower beds have large surface areas, as an alternative to using a spade, hoe or rake to work the soil, you can use a rotary tiller instead. You will find tips on how to get the most out of a rotary tiller here: how to till soil in the garden and vegetable patch.
Speaking of vegetable patches, October/November is also the ideal time to till and fertilise soil (that is not occupied by winter vegetables) with compost or manure, so that from March onwards it is ready for sowing and transplanting spring and summer crops. If you need to regenerate the soil in your vegetable patch, you can sow green manures by October. During the same month you can also sow, transplant or propagate aromatic and medicinal herbs like thyme and mint, calendula, lemon balm and valerian in your vegetable patch.
Autumn is also the ideal season for bedding in evergreens, conifers and deciduous plants, including fruit trees. On that subject, here are our tips for planning and planting an orchard.
Always keep the plants in your garden under control: autumn humidity can encourage disease development and pest attack. To combat this, try natural pesticides instead of synthetic products: we talk about this in our article on how to take care of the vegetable patch with natural treatments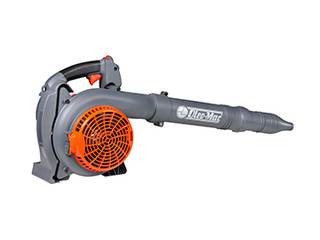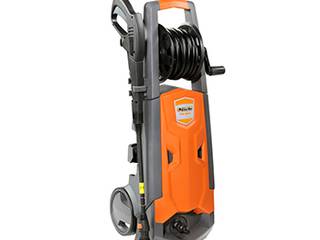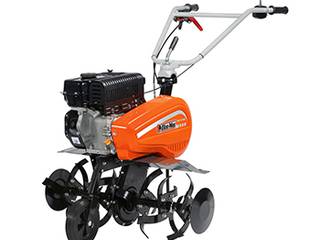 Depending on your local area and weather patterns, from October you should start protecting your plants from the cold. Move potted plants to an enclosed, bright but unheated environment and wrap the foliage of the most delicate garden plants with plastic sheeting, non-woven fabric or straw mats (as we mentioned previously, roots should be protected with mulch).
At this point, it is time to clear the garden of dried fallen leaves: to collect them more quickly, especially if you have a large garden, it makes sense to use a blower. You can use the collected leaves—provided they are perfectly healthy—for mulch, or add them to your garden composter.
In autumn, cleaning the garden is not limited to clearing dead plants and leaves, but also extends to cleaning outdoor furniture and play equipment, gazebos and everything that has to be dismantled and stored away in the shed or garage. For this purpose, a high-pressure washer saves times and delivers better results than a garden hose.
Clean and carry out pre-storage maintenance of manual and power gardening tools that you don't expect to need at any point during the winter. By the way, even high-pressure washers need care and attention: here's how to maintain a high-pressure washer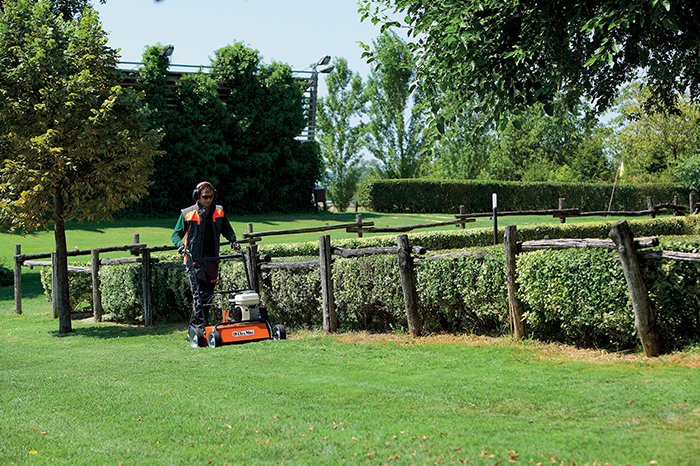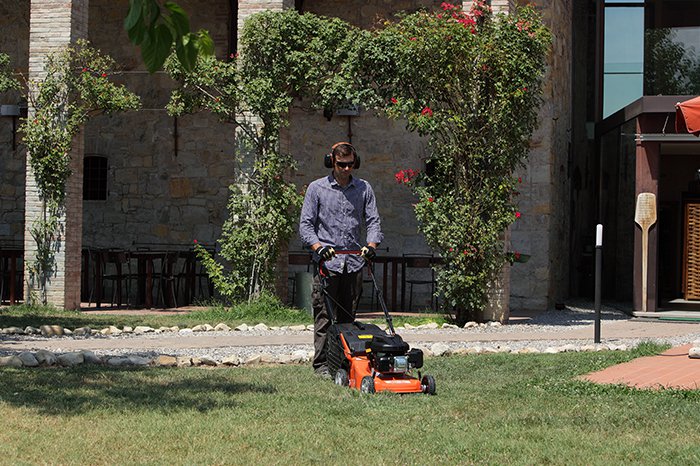 The lawn: sowing, mowing and scarification
Just like plants, by September the lawn has recovered from the heat and drought of summer and resumes growing at a rate similar to that in spring. So throughout October (and November), the grass should be mowed with a brushcutter, lawnmower or garden tractor, depending on your needs. As the cold weather draws in, from the middle of the month keep the grass a little higher by adjusting the cutting height to around 6-7 cm.
If your lawn needs a radical makeover, the right time for seeding the lawn is from September to near the end of October, depending on which grass species you intend to sow. If after the summer, however, you want to restore thinned out or damaged patches of turf, it will need reseeding (or overseeding), and the best time to do this is from September to November.
Run a scarifier over it to remove thatch and moss and to oxygenate the lawn. Here we explain why, how and when to aerate the lawn which, if necessary, should be performed before overseeding.
October is only the beginning of autumn, find out what else there is to do in the garden during the rest of the season: jobs for keeping the autumn garden at its best. Your lawn and garden still need looking after in the coldest months, so here we list all the winter maintenance jobs for the garden.