When it comes to working in the countryside, a tractor mower is an irreplaceable aid, and not just for lawn maintenance. If you have a vegetable plot or a small vineyard or orchard, a garden tractor is a valuable ally for tree and plant care, because it helps you to control weeds, as well as the quality of soil and the production of grapes and other fruit, in a sustainable, eco-friendly way.
Garden tractors for the vineyard and orchard
A tractor mower helps you to control grass cover between the rows of your vineyard or orchard. Grass planting is an excellent way to protect soil from erosion – especially on sloping land – and improves the soil's quality, structure and bearing capacity.
You can also utilise grass collected from periodic mowing with your vineyard or orchard tractor to produce natural and economical mulch, without having to use sheets of polyethylene, non-woven fabric or other biodegradable but more expensive materials. Mulching allows you to effectively combat the presence of weeds between your vineyard or orchard rows. It is also an alternative to soil treatment and weeding using herbicides.
To use this type of technique, you simply need to install a practical mulching kit on your garden tractor. This accessory allows you to collect cut grass, chop it up and spread it over the ground, giving you an economical and eco-friendly fertiliser in a matter of minutes.
In addition, before tending your plants and harvesting them, you can use the garden tractor to mow the grass between each row in order to make the orchard or vineyard accessible to vehicles and people.
The most suitable Oleo-Mac models for vineyards and orchards
If you want to work easily between the rows, your orchard or vineyard tractor must have compact dimensions, especially in terms of width. In addition, if it has a small turning radius you can manoeuvre more quickly and negotiate confined spaces better, without fear of damaging trees or bumping into vine posts and anchors. Plus, if you want smooth, jerk-free driving, choose a garden tractor with a hydrostatic transmission.
Oleo-Mac offers different types of garden tractors with these features, which are suitable for working in vineyards or orchards, even on sloping ground. There are rear-discharge garden tractors like the OM 93/16 K, OM 103/16 K, OM 103/21, OM 103/22 V and OM 123/22 V models, side-discharge garden tractors like the OM 98 L/14,5 K model, and professional all-terrain garden tractors like the APACHE 92 EVO, which will help you overcome even the most difficult terrain. These machines measure 96 to 119 cm wide and have a turning radius between 65 and 96 cm.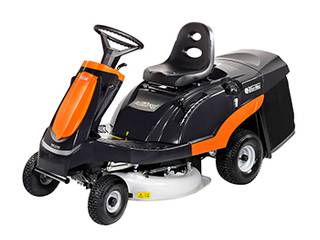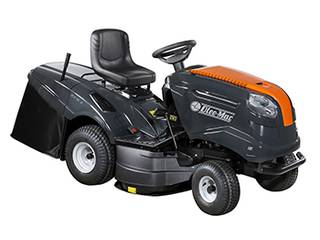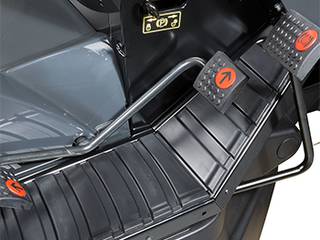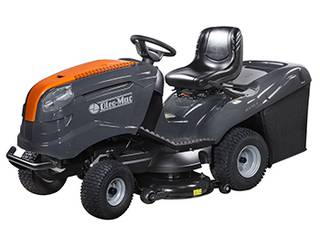 For perfect visibility of the work area, the best garden tractors are those that do not have the engine mounted at the front, such as ride-on mowers like the Oleo-Mac MISTRAL 72/12,5 K H, which is only 73 cm wide and has a turning radius of just 45 cm.
With a ride-on mower or rear-discharge garden tractor, you can use the supplied grass catcher to collect up to 320 L of grass, which can be used for mulching. Whereas, a side-discharge garden tractor deposits clippings alongside the rows.
If you prefer to select grass varieties and plant them artificially, rather than letting wild grass grow naturally, a lawn tractor will help to flatten the ground before and after sowing the grass seed. All you need is a lawn roller from the Oleo-Mac line of accessories for garden tractors.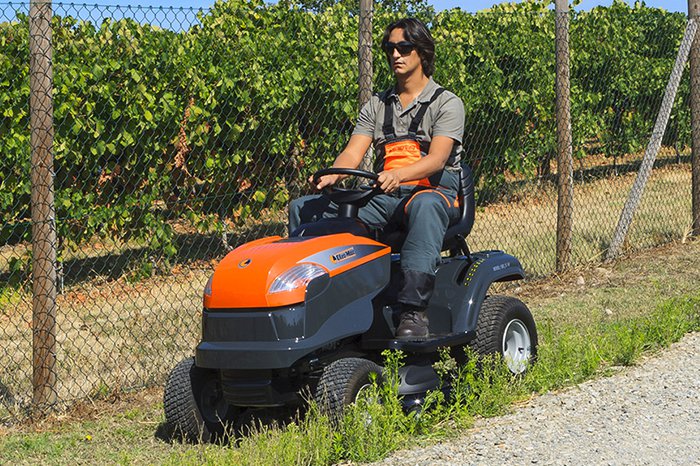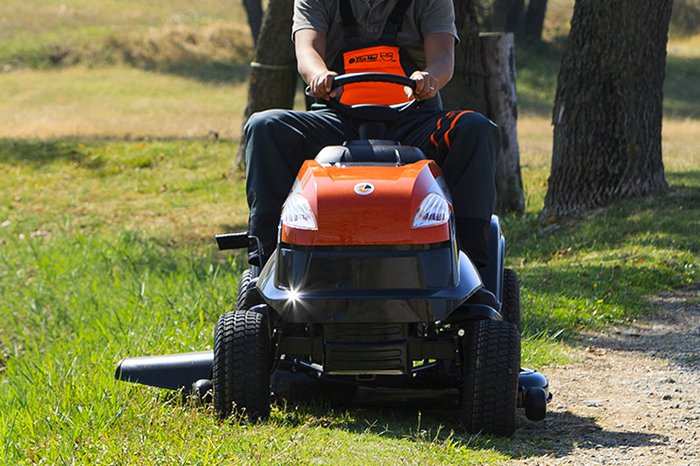 Garden tractors for the vegetable plot
If you want to convert an overgrown area into a vegetable garden, a tractor mower is essential for cleaning the ground before tilling, which is necessary to prepare the seeding and transplant beds.
In addition, you can use the grass clippings collected by the garden tractor to make a natural mulch for the plants. Mulching prevents weed growth, keeps the soil moist and protects it from heavy rain, sun and wind. It also fertilises the soil naturally and makes it fairly soft, without letting it become too compact.
A garden tractor is also very convenient for transporting work materials and equipment around the vegetable plot: in just a few minutes it converts from a lawn mower to a towing vehicle with the Oleo-Mac towing kit, which can be combined with the lightweight and strong steel trailer with maximum load capacity of 230 kg.