The wait is over! Oleo-Mac is proud and excited to present the new GSTH 240 H series pruning chainsaw.
This marvel of technology is ideally designed to help you tend your garden plants and is particularly suited to pruning and limbing fruit and olive trees. Its standout features? Ergonomics and balanced weight distribution!
The GSTH 240 also impresses for its stable air/fuel mixture ratio, as well as its easy handling: cutting can even be performed with the machine tilted or upside down, so you can adopt the least tiring position when working.
All controls are grouped together for easy access: the On/Off switch with AlwaysOn system automatically returns to the ON position after each stop, thereby eliminating the risk of flooding the carburettor, and starting the engine is a breeze thanks to the EasyOn system.
We are sure that this small yet powerful machine will win you over with its 25.4 cm³ 2-stroke engine and 1.2 HP power output, as well as its anti-vibration system, which isolates you from vibrations thanks to the three rubber shock absorbers.
We could continue to list the benefits of the GSTH 240, but we want to leave you the pleasure of discovering it for yourself.
You can purchase it from our authorised dealers.
H series chainsaws
GSTH 240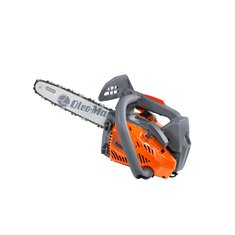 Power/Displacement 1.2 HP - 0.9 kW/25.4 cm³
Bar length (nose) 25 cm, 10''
Dry weight without bar and chain 3.2 kg