Thinking of buying a high-pressure washer? Great idea, because it's a tool that fully deserves its reputation for versatility. An outdoor high-pressure washer is a big help when working outside the home and in the garden. Likewise, a professional high-pressure washer is a precious aid if you work on a building site or have a workshop or industrial facility with a floor that needs cleaning.
Here we tell how to choose the best high-pressure washer for your household or professional needs, starting with the jobs you can get done and the aspects you should consider when selecting the right model. So let's get started.
High-pressure washers: all the jobs you can do
Did we mention that high-pressure washers are versatile? It's true, take our word for it. With a high-pressure washer for your garden you can:
Clean paths and driveways

Wash terraces, garages and outdoor flooring

Remove mould and moss from internal walls and floors

Wash the external walls or windows of your home

Wash cars, scooters and bicycles

Clean garden furniture and lampposts, railings etc.

Wash gardening tools (a high-pressure washer is perfect for removing compacted grass from lawnmower decks and garden tractors after each mowing session)

Unblocking gutters and downspouts obstructed by leaves, twigs, earth, nests etc.
Is your bathroom or kitchen sink clogged? No problem, your garden high-pressure washer can even unclog household drain pipes. Do you do home maintenance, or do you enjoy DIY? With a high-pressure washer you can also perform sandblasting – with a pressurised jet of water and sand – to remove rust, encrusted dirt or paint from a gate before repainting it, for example. We'll say it again: high-pressure washers really are a multipurpose tool.
Why should you use a high-pressure washer instead of a regular garden hose? Because you save time, effort and water: pressurised water removes dirt by itself and reaches hidden nooks and crannies without the need to rub, bend over or kneel. In short, you get excellent results with minimal effort.
The cleaning power of the water is boosted by the pressure, and the effect is even better if the water is hot (and/or contains detergent). In this respect, high-pressure washers are divided into 2 main groups: cold water high-pressure washers and hot water high-pressure washers. We describe them in more detail in the following paragraph.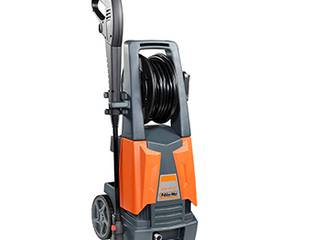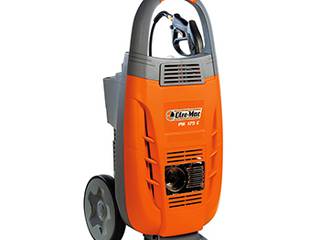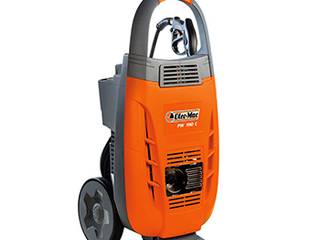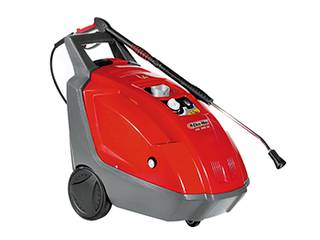 Choosing the best high-pressure washer: what to look for
Are you weighing up which is the right high-pressure washer for your work? This is what you should pay attention to:
Hot or cold water operation

Load capacity

Pressure

Fuel supply

Power

Comfort

Available accessories
Hot water high-pressure washers are intended for professional use and are more than a match for any type of dirt, including grease and oil. These high-pressure washers heat the water directly: for example, an internal boiler with a double spiral heating coil enables the Oleo-Mac PW 300 HC to spray water at a temperature of up to 90°C, which can be adjusted using a thermostat. By contrast, cold water high-pressure washers operate with both cold and hot water: up to 40°C for the Oleo-Mac PW 115 C, PW 125 C, PW 175 C and PW 190 C models.
The flow rate is the amount of water that the high-pressure washer expels from the nozzle and is measured in litres per hour (l/h): it is the most important parameter to take into consideration. You could be forgiven for thinking that the pressure rating (measured in bar) is the key criterion for choosing a high-pressure washer, but without an adequate amount of water at the outlet (flow rate), a high pressure rating is of little use. The balance between flow rate and pressure determines the cleaning power of a high-pressure washer's jet and therefore its possible range of applications and washing speed. The power absorbed by the high-pressure washer is of course proportionate to the flow rate and pressure rating and is correlated to the machine's power supply, which can be electric, battery or petrol engine.
PW 125 C, PW 175 C and PW 190 C cold water high-pressure cleaners have a flow rate of 500, 510 and 600 l/h respectively, combined with a maximum pressure of 150 or 160 bar, which is more than enough for washing walls, cars and floors. For similar uses the PW 300 HC hot water high-pressure washer, with a flow rate of 540 l/h and pressure rating of 150 bar, is even more effective thanks to the combined effect of the pressurised and heated water. The compact PW 115 C model, with a flow rate of 360 l/h and a pressure rating of 125 bar, is suitable for washing cars, motorbikes and cycles, garden furniture and gardening tools.
The manageability of a high-pressure washer depends on the machine's weight, shape and dimensions, as well as its portability, which is facilitated by wheels and handles.
When choosing the high-pressure washer that's right for you, don't overlook the availability of accessories: think about which might be useful to you and whether they are standard equipment or optional extras that need to be purchased separately. For example, here are the main accessories (many of which are supplied as standard), for the PW 115 C, PW 125 C, PW 175 C, PW 190 C and PW 300 HC models: gun, lance, angled lance, various types of nozzle (adjustable, rotating, for use with detergent), hose and hose reel, integrated detergent tank and fixed brush.
In addition to the extensive set of accessories supplied with Oleo-Mac high-pressure washers, there are optional accessories including: rotary brush, foaming lance, floor washer, rotojet lance, sand blast lance, drain clearing attachment and nozzles, water filter.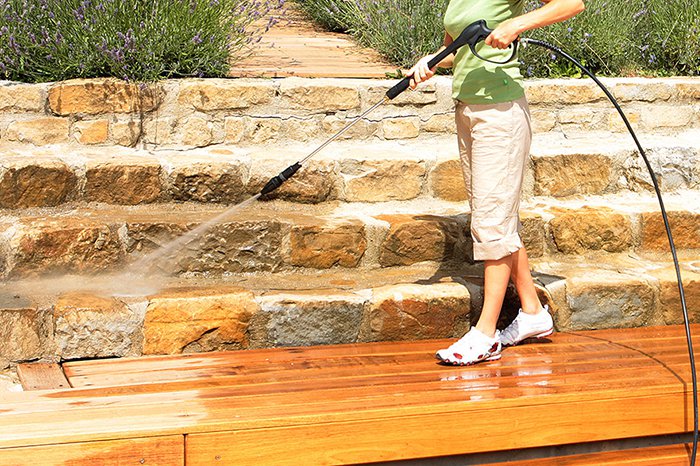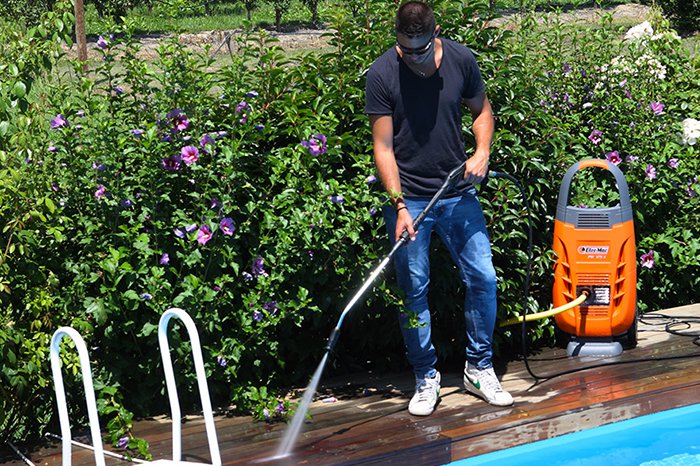 How to choose a high-pressure washer: questions to ask yourself
Choosing a suitable high-pressure washer for the garden or a professional high-pressure washer for work basically depends on:
Type of use: do you need a practical and quick tool to wash the car or the veranda of your home, or are you looking for something more, to carry out maintenance work such as cleaning gutters, unclogging drains or sandblasting?

Frequency: how often do you plan on using your high-pressure washer? A couple of times a year or regularly?

Quantity: how intensive will your tasks be? Will you be cleaning a few square metres, or large surfaces that might also be very dirty or greasy?
By focusing on the above points, you have all the elements to make the right investment and achieve good results tailored to your budget, and avoid buying a machine that is either too high-powered or inadequate for your needs.
Use, frequency and quantity are the variables that make the difference between choosing a high-pressure washer for professional use, such as the Oleo-Mac PW 300 HC hot water high-pressure washer, or a more basic machine for outdoor chores, such as a cold water high-pressure washer. Based on these same variables, you can also identify the best cold water model for achieving a pristine garden and car – for example the PW 115 C and PW 125 C – and which models might be helpful for more demanding jobs, such as the PW 175 C and PW 190 C.
If you think that using a high-pressure washer seems complicated compared with a good old-fashioned garden hose, you may change your mind after checking out this video on how to use a high-pressure washer correctly.