A chainsaw is a great helper in the garden and also in various jobs around the home, from cutting logs for a wood burner to DIY projects. So how can I choose the most suitable chainsaw?
There are many types of chainsaws on the market, with different features and prices. If you're seeking the most suitable chainsaw for your needs, you'll know that there are various factors to consider in order to make a complete assessment, without skipping any details. Keep reading... we'll be summarising them all below.
Choosing a chainsaw based on intended use
How the tool is used and for what purpose is probably the main aspect to consider when choosing a chainsaw. Actually, this is a macro-aspect with various different facets, each requiring analysis:
Your experience: is this your first chainsaw? Alternatively, are you planning to replace your current model?
Frequency of use: how often will the tool be used – or how often do you think you'll be using it? Just a few times a year, frequently, or intensive use?
What type of job do you usually tackle or expect to be tackling: normal maintenance of trees in a garden or orchard, cutting firewood, felling or limbing trees?
What type of trees do you plan to work on: what diameter limbs or boles do you intend to cut? Will you be working with softwood (such as poplar, larch, spruce, pine) or hardwood (such as beech, walnut, oak or cherry)?
In what type of environment will you be working with the chainsaw: residential, isolated countryside, woodland?
Operation and description of a chainsaw
There are different types of chainsaw – we'll be addressing this in the next two paragraphs – but classification apart, all chainsaws are composed of three essential parts:
Motor unit
Cutting tool composed of guide bar and chain
Handle system
The motor transmits drive to the chain by means of a pinion gear wheel. The chain runs on a guide bar with a perimeter channel and it is the cutting element of the chainsaw, composed of 3 types of links – guiding, cutting and connecting – positioned alternately and assembled with rivets.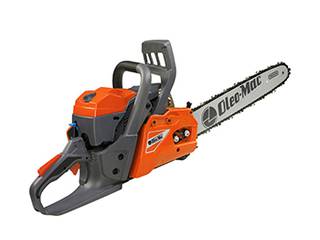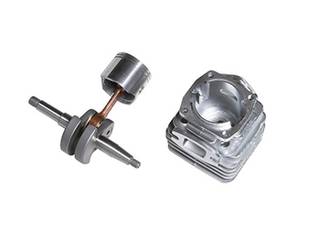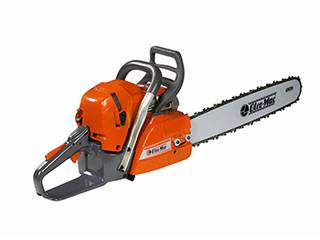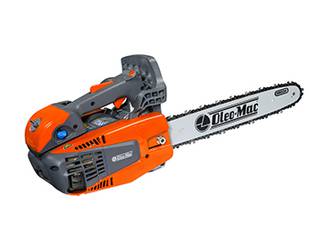 The three main types of chainsaw
We have just written that there are different types of chainsaw. If we consider them from the perspectives of the power and technical features that make them more suitable for one type of application rather than another, we can place them in the following categories:
Compact
Medium power
Professional
Pruning
Compact chainsaws are easy to use and versatile, because they are ideal for occasional light pruning duty, cutting small diameter firewood, and also cutting small trees and carrying out DIY tasks. Oleo-Mac proposes several models, such as compact chainsaw GS 411.
Medium power chainsaws are suitable for intensive and frequent duties of pruning, cutting boles of small-medium diameter, limbing trees in the garden and in the countryside. If you're a keen amateur gardener, a medium power chainsaw will suit your requirements perfectly.
Professional chainsaws are extremely powerful, created to handle intensive jobs and prolonged use, including felling and sectioning large trees. These are tools for daily use, indispensable for woodcutters, gardeners, groundcare professionals, etc., for example the GS 650 professional chainsaw.
Pruning chainsaws are professional tools, lighter and more compact than standard chainsaws and specifically designed for pruning and limbing duties. These chainsaws are also equipped with a hook so they can be clipped to the harness to be worn when cutting at heights attained by tree-climbing, for example the GST 360 pruning chainsaw.
Petrol-engine, electric or battery-powered chainsaws
If we speak of chainsaws in terms of power source, there are 3 basic groups: petrol-engine chainsaws, electric chainsaws, and battery-powered chainsaws.
Oleo-Mac petrol-engine chainsaws include:
- compact chainsaws
- professional chainsaws
- pruning chainsaws
- medium power chainsaws.
This type of chainsaw is ideal both for periodic tending of trees in the garden and for tree surgery duties in woodland and parks.
How to choose the petrol-engine chainsaw that best fits your needs?
By considering the specific application and the intended frequency of use. If you mainly use the tool to tend to the trees in your garden, choose a compact chainsaw like the 1.9 kW GS 411 with 41 cm guide bar. Will you be frequently working in woodland and sectioning large trees? Opt for a professional chainsaw such as the 3.5 kW GS 650 with 51 cm guide bar, or a pruning chainsaw like the 1.5 kW GST 360 with 30 cm and 35 cm guide bars. You'll be surprised at the power of the tool and the ease of cutting. Don't believe us? Check out the performance of this tool here.
Electric chainsaws, supplied through a power cord, are quick and easy to use, manageable, and with minimal maintenance requirements. This type of chainsaw is perfect for small gardening duties, cutting firewood, and DIY woodworking jobs. Example? The 2 kW GS 200 E with 41 cm guide bar.
Also battery-powered chainsaws are ideal for minor pruning, firewood cutting and DIY jobs. Apart from being easy to use, these tools are quiet, and the absence of a power cord allows the maximum freedom of action, also in the countryside or wherever a handily located power outlet is lacking.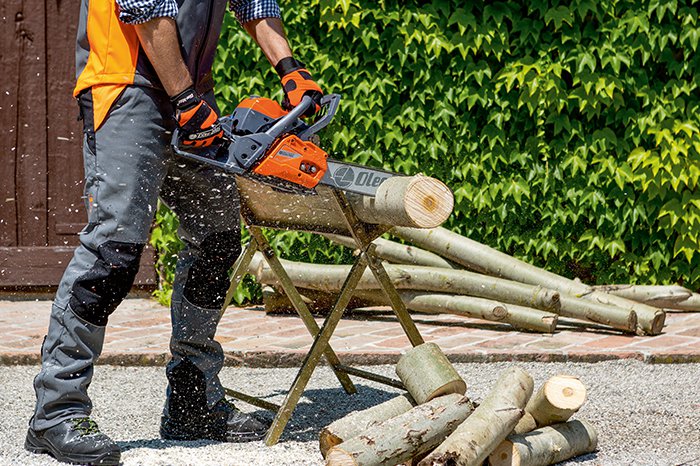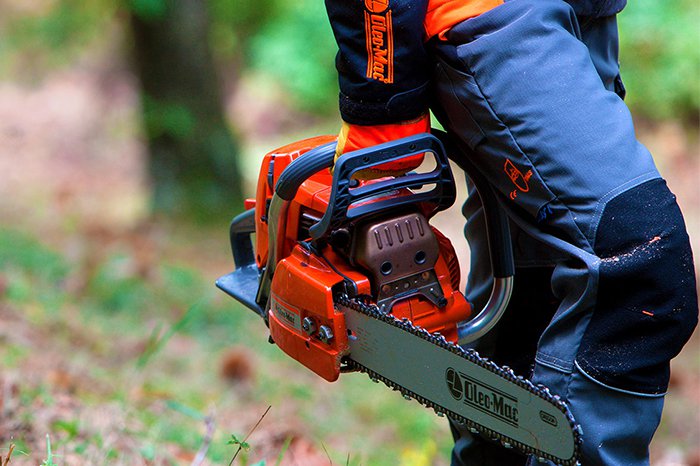 Technical characteristics of a chainsaw
In addition to your requirements for use and the type of power source of the chainsaw, what are the main characteristics to consider when choosing a chainsaw? Speaking of the basic technical parameters, certainly the power rating, meaning the value expressed in kW or HP, and the length of the guide bar.
The power must be proportional to the size of the limbs or boles to be cut and the hardness of the wood. If you use a chainsaw that is insufficiently powerful in relation to the work to be performed, it is likely to be overloaded frequently, resulting in a short working life. Conversely, if you purchase a far more powerful chainsaw than needed, you will be making a big investment on a tool that is used infrequently and could be profitably replaced by a lighter chainsaw that is easier to manage.
The other parameter is the length of the guide bar, i.e. the component that guides the chain and determines the length of cuts that can be made by the machine. Also the guide bar must be proportional to the work to be done and the power of the chainsaw. A chainsaw with a short guide bar is easier to handle and lighter in weight, while longer guide bar models – with which to cut large diameter boles – are more powerful and heavier.
A key chainsaw component is the chain brake: the safety device that protects you in the case of kickback, meaning a sudden upward and backward jolt of the tool during cutting. In this case the chain brake is applied automatically to stop movement of the chain instantly. The chain brake can also be operated manually by pushing it towards the guide bar, using the same action required before starting the engine. The chain brake also works as a hand guard.
Finally, an aspect that must be duly considered is the practicality of the chainsaw, which is not simply a matter of correctly designed ergonomics and balanced weight with respect to the power of the machine and your stature. Practicality also means easy routine maintenance, i.e.:
Chain that is easy to tension, e.g. using the lateral chain tensioner found on Oleo-Mac chainsaws.
Guide bar and chain that can be fitted/removed in a few minutes.
Air filter, fuel filter and spark plug that can be easily checked and replaced.