Even if you have a passion for gardening, cutting grass may not be one of your favourite chores. But it is a vital one, not least because mowing the lawn serves an aesthetic purpose. Everyone likes a tidy garden, and a nicely trimmed lawn certainly makes a great first impression.
Perhaps more importantly though, cutting the lawn regularly is actually healthy for the grass, which, rather than lengthening and becoming thin and sparse, fills out while producing new shoots and thicker stems, creating a lush green carpet that is dense and compact. Furthermore, mowing with the right technique and frequency makes the lawn more resistant to fungal infections. Finally, a dense turf with no bare patches prevents weeds from finding a space in which to thrive.
Today we talk about how to cut grass, when and how much to cut in order to achieve a perfect lawn even when the sun is at its hottest.
How to mow the lawn in summer
How should you mow the lawn? First, the blades you use should be sharp so that you get a clean cut, without tearing the stems. Again, it's not just a question of aesthetics, but also of lawn health: a clean cut means less trauma, less healing time and less impact on grass seedlings, which in turn makes them less susceptible to disease.
You can choose to mow the grass with a battery-powered lawnmower such as the Oleo-Mac Gi 48 P, or a petrol-engine model like the G 48 PK COMFORT PLUS, a push-type lawnmower, or instead opt for the G 44 TK COMFORT PLUS, which is a self-propelled lawnmower. As an alternative to a lawnmower you can use a brushcutter, although it won't achieve the same neat finish that a mower provides.
Another thing to consider is that the lawnmower's cutting width should be proportionate to the area you are working on. For example, Oleo-Mac models range between 41 cm on the G 44 TK COMFORT PLUS and 53 cm with the LUX 55 HXF professional lawnmower.
For the best mowing results, don't cut grass after it has been rained on or watered. Why? On the one hand, the lawnmower will potentially help to spread disease. On the other hand, wet grass makes the lawn slippery and therefore less safe, besides sticking to the lawnmower blades and the underside of the deck, resulting in a more ragged cut and increasing stress on the machine. With this in mind, grass should be cut when dry, although not when the soil is parched and the lawn is already suffering from drought stress.
We also recommend not to always mow in the same pattern, instead alternate the cutting direction each time you mow. So, if you cut the grass parallel to your garden wall last time, cut perpendicular to the wall this time. If that isn't possible, at least rake the grass regularly. That way you keep the blades vertical, whereas always mowing in the same direction will bend the stems, affecting the lawn's appearance and the cutting quality.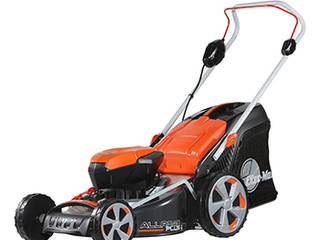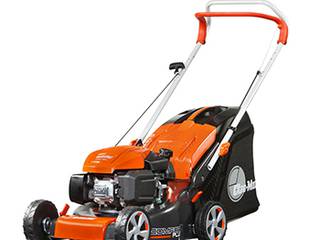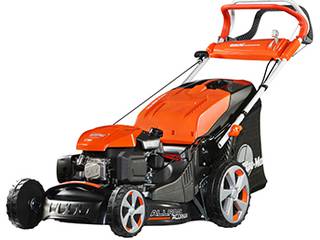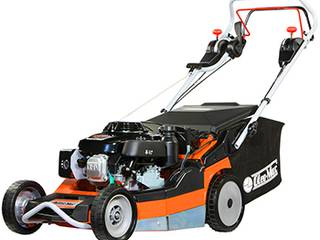 How much to cut the grass in summer
A good practice when cutting grass is to remove no more than one-third of the grass blade, leaving a maximum height of 9-10 cm. So, starting with the lawn at its ideal height—based on the types of grass and the overall look you want to achieve—we advise you not to let it grow by more than a third. However, between June and September it's best to keep the grass about 20-30% higher than the optimal height, which can be 10-15 cm for Festuca, 8 cm for Lolium, 7 cm for Poa and 6 cm for Cynodon dactylon.
Taller grass tolerates heat and drought better, is less vulnerable to disease and weeds, ensures protection of the collar (connective tissue) where blade growth occurs, and retains more soil moisture.
To set the mower cutting height you have 2 options: independent adjustment for each wheel, as on the G 48 PK COMFORT PLUS push-type lawnmower, or an even more practical centralised system such as on the MAX 53 VBD ALUMINUM PRO professional lawnmower.
When to cut grass in the summer
How often should grass be cut? That depends on a number of factors: the type of grass, the lawn's purpose, the season, irrigation and fertilisation. In general, for the reasons we mentioned earlier, between June and September you should not only let the grass grow a few centimetres taller, but also cut it less often: we recommend mowing every 10-20 days.
And when is it best to cut the grass? The right time to mow the lawn in hot weather is during the late afternoon, after 5:00 p.m. Avoiding the blazing heat is not only better for the grass, but for you too.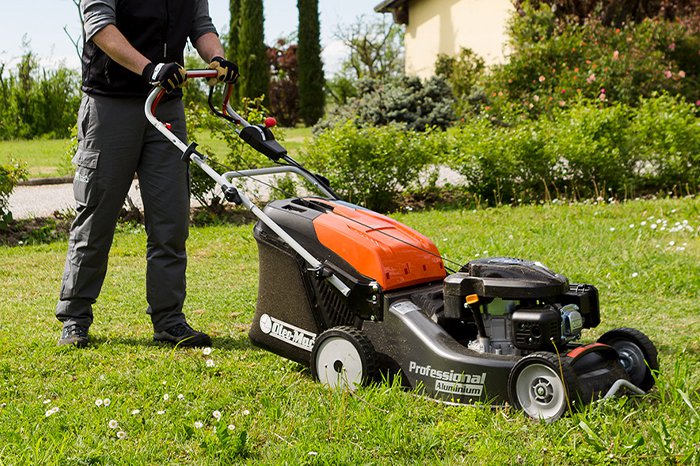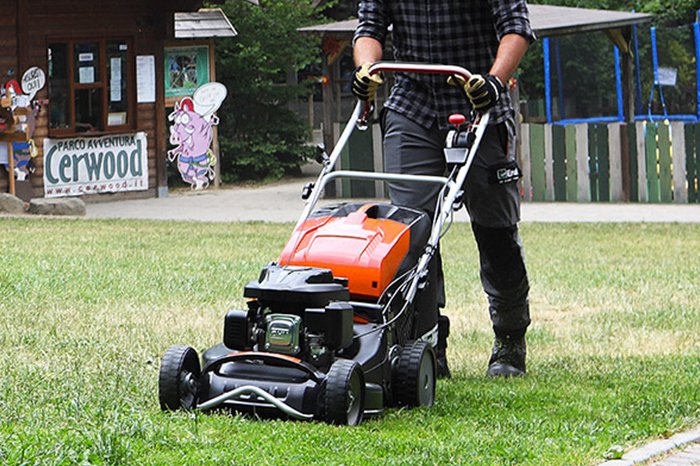 And after mowing?
After mowing the lawn, you can finish the edges as normal—along walls and paths as well as around trees and flower beds—with conventional grass shears or a brushcutter, which can also help you to cut grass in the narrowest confines of the garden.
As for how to deal with clippings, you can choose to collect them with the mower's grass catcher or leave them on the lawn, either as they are or chopped up with a mulching cut. In the latter case, mulching is a standard feature on the Gi 48 P battery-powered lawnmower, the G 48 TK ALLROAD PLUS 4 self-propelled lawnmower, and the MAX 53 TK ALLROAD ALUMINUM and MAX 53 VBD ALUMINUM PRO professional lawnmowers.
Finally, after cutting the lawn, even in summer remember to take a few minutes to clean and service your lawnmower to keep it in perfect working order: check out this article on how to maintain electric and petrol-engine lawnmowers.
Petrol-engine, electric or battery-powered? Push-type or self-propelled? A gardening model or a professional model? Don't yet know which lawnmower to buy? In this article you will find some useful pointers to help you decide which type of lawnmower is right for you.