If you have a garden, battery-powered gardening tools are an option worth keeping in mind. They provide a green alternative to petrol engine gardening tools: no emissions, no fossil fuels, no noise. And they are also easier to use without pull starts, require much less maintenance and are really simple to "refuel" — which involves a quick battery change. They are also lighter to carry and enable you to work more comfortably, with very little vibration.
Furthermore, cordless gardening tools are more practical than corded tools, as they don't require a power cable or nearby mains socket.
But how much work can you do in the garden on one battery? How long does a gardening tool battery last? That's the focus of this article: we'll start with a practical test on battery-powered hedgetrimmers, lawnmowers and blowers before talking about gardening tool battery life and finishing off with some advice on keeping batteries working at their best.
How much work can you do in the garden on one battery
A picture is worth a thousand words, so let's start with a very straightforward visual explanation: in this video, Matt The Farmer tests three Oleo-Mac battery-powered gardening tools—a hedgetrimmer, blower and lawnmower—to check exactly how much work you can do with one battery.
Let's summarise what Matt The Farmer managed to get done on a full battery. The charge level indicator originally showed 4 bars and by the time he finished working there were 2 bars of power remaining:
He trimmed the hedge along one side of the garden with a battery-powered hedgetrimmer.

He cleared the roadside verge of hedge trimmings with the battery-operated blower.

He mowed a 350-400 m² lawn with the battery-powered lawnmower: the grass was wet, so it was heavier than normal (we recommend cutting dry grass).
As you saw, the three battery-powered gardening tools were tested using a 5 Ah battery. What does that mean? "Ah" stands for "ampere-hour", which is a unit for measuring battery capacity: a 5 Ah battery can supply your gardening tools with a current of 5 A (amps) for 1 hour's operation, or 10 A for 30 minutes etc.
Oleo-Mac battery-powered gardening tools have lithium batteries with a capacity of 5 Ah or 2.5 Ah. They are rechargeable batteries, for which you can find battery chargers in two different versions:
Standard CRG: recharges a 2.5 Ah battery in less than 2 hours and a 5 Ah battery in about 3.5 hours.

FAST CRG: a new charger that reduces charging times to just 50 minutes for a 2.5 Ah battery and 70 minutes for a 5 Ah battery.
Oleo-Mac batteries have a 24-month guarantee and are interchangeable, so you can use both 2.5 Ah and 5 Ah batteries on all Oleo-Mac battery operated machines.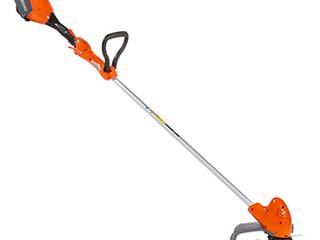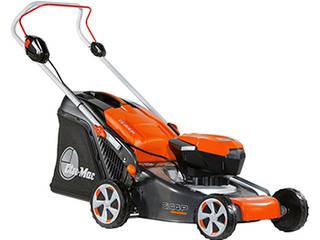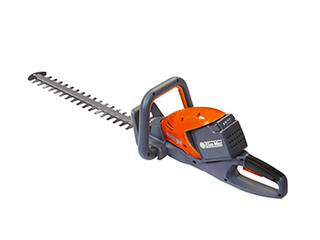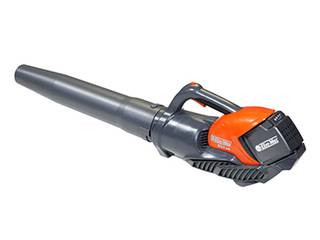 A complete kit of battery-powered gardening tools
Below we give you some more details about the three tools that Matt The Farmer tested in the video, which are part of the new range of Oleo-Mac battery-powered gardening tools described in this article.
The range also includes the BCi 30 battery-powered brushcutter with 0.34 kW power rating, which weighs only 2.9 kg and has a 30 cm cutting diameter. It includes a Load & Go line head with 2 mm Pro-Silent spiral line, providing 60 minutes of flawless, quiet grass cutting and edging.
The HCi 45 battery-powered hedgetrimmer has a power output of 0.34 kW and a 45 cm long, high-quality laser-treated double blade, giving you 2 hours' continuous working time, or 45 minutes in the case of intensive jobs.
With the BVi 60 battery-powered blower you have 0.62 kW of power that generates an air jet with a maximum speed of 40 m/sec. It gives you up to 1.5 hours of running time for cleaning steps, paths, lawns and even other gardening tools.
Among the Oleo-Mac battery-powered lawnmowers, the 0.75 kW Gi 44 P push-type model has a robust steel deck and a 70 l grass catcher despite weighing only 23 kg. You can use it with one or two 2.5 or 5 Ah batteries, giving you sufficient running time to cover an 800 m² lawn.
You can get an Oleo-Mac battery-powered brushcutter, hedgetrimmer and blower in a kit that includes, for each tool, a 2.5 Ah battery and a CRG battery charger, while the battery-powered mower comes with a 5 Ah battery and a CRG battery charger included.
Do you already have another Oleo-Mac battery-powered gardening tool that came with a battery and charger? If so, you can buy a new machine on its own without a battery or charger.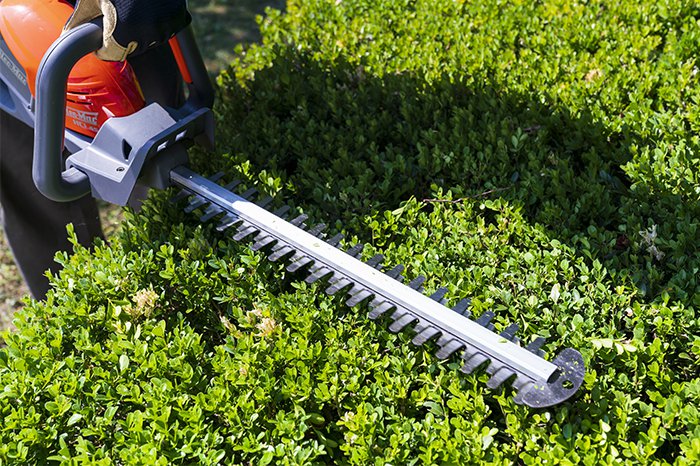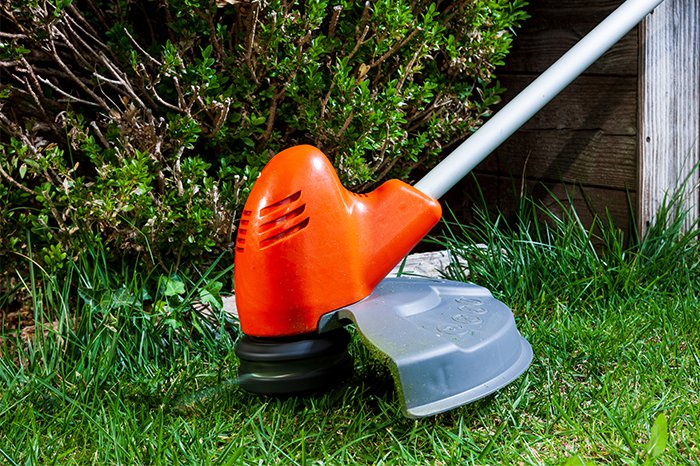 How to keep gardening tool batteries working at their best
As we have seen, cordless tools make excellent working companions for keeping your garden in order. Here are some tips for ensuring that your Oleo-Mac batteries have a long and productive service life:
Keep the batteries clean and dry.

Only use Oleo-Mac battery chargers to recharge them.

Don't exceed the maximum charging time, which only applies if the battery is completely discharged.

Don't charge batteries in cold temperatures (below 10°C): it can damage the lithium cells.

Avoid full discharges because they cause batteries to age quicker: limit discharge to 80%.

Protect them from overheating: don't overload them or expose them to direct sunlight.

Also protect them from humidity and rain, which can cause serious damage to the lithium cells. For the same reason, don't use water to clean them.

Avoid dropping and violently bumping batteries: even if the case remains intact, the lithium cells inside may still be damaged.

Store batteries in a cool place, ideally at 15°C, and charged to at least 40%.
Finally, if you don't plan to use your gardening tools for a long time, or are storing them away for the winter:
Remove the batteries.

Charge them fully and repeat the process every 15-30 days to prevent them from completely discharging.

Keep them in the original packaging in a dry environment, sheltered from sunlight and frost (10–20°C is the ideal temperature range).

Keep them away from metal objects (nails, tools, keys, coins etc.) which can cause a short circuit between the contacts.