Do you have a vegetable patch, garden or plot of land? Have you been relying on a spade, hoe and elbow grease to cultivate soil for sowing and transplanting? Are you looking to make your life easier with a mechanised tool?
If so, let's talk about rotary tillers: these power tools have sturdy blades that do the work for you and save time. They break up clods of earth, improve soil drainage, and mix in fertiliser and soil improvers, making the ground more suitable for planting seeds and seedlings and for growing vegetables, fruit and flowers.
But how to choose the right rotary tiller for your needs? Which is the best one? What factors should you consider before deciding which rotary tiller to buy? We summarise everything for you in this article.
Which rotary tiller should I buy? Evaluate the technical features
If you've decided to buy a rotary tiller, you probably already know the answers to the following questions:
How big is the area you want to work?
What characteristics does it have, e.g. is it open ground or crossed by rows of plants? Is it flat or sloping?
The type of soil: light and easy to work, or very compact?
How often and for long do you plan to use the rotary tiller?
You can find both petrol-driven and electrical rotary tillers on the market. The type of power source determines the power output: generally speaking, petrol-engine rotary tillers are the most powerful. The power output of a rotary tiller determines the scale and intensity of the tasks you can perform with it.
Another important related criterion for choosing a rotary tiller is striking the right balance between weight and power. That is because a powerful machine needs to be heavier in order to be stable, sink into the ground and work the soil without jumping out of the ground and escaping your grasp.
The importance of having a rotary tiller with the right power/weight ratio is one of the points underlined by Matt The Farmer in the following video, where he explains how to choose the best rotary tiller for your needs (in Italian).
Another factor to consider is the width of the rotor: the bigger it is, the less time it takes to work the soil. In addition, the diameter of the rotor gives you an idea of how deep the machine can go.
For example, for your vegetable patch or back garden you can choose the new Oleo-Mac MH 155 K compact rotary tiller with 4-stroke engine, 80 cm3 displacement, 27 kg weight, 1 forward speed and 46 cm rotor with 3 + 3 blades. Do you have to move around in confined spaces, such as between rows of plants? It's easily done: simply remove the blades on both sides of the rotor to reduce the cutting width to 32 or 22 cm, working with 2 + 2 or 1 + 1 blades respectively.
To work a larger vegetable patch or a small plot of land, you can opt instead for the new MH 175 RKS medium-power rotary tiller model, also with 4-stroke engine, but with 182 cm³ displacement, 57 kg weight, 1 forward and 1 reverse speed, and 82 cm rotor with 3 + 3 blades reducible to 55 cm. Oleo-Mac rotary tillers are supplied with a set of keys for removing and fitting the rotor blades.
The best rotary tiller? It should be practical
Your rotary tiller must be as comfortable to use as possible, to suit your arms and shoulders, as well as the work you are doing. For this reason the adjustable handlebar is essential: on the MH 155 K it is height-adjustable, whereas on the MH 175 RKS it is both height- and side-adjustable, so you can walk beside the rotary tiller as you work, without stepping on ground that you have already tilled.
The machine's forward movement comes from the rotor, which acts like a drive wheel as it churns through the soil. It is therefore important that your rotary tiller has gears, preferably with at least one forward and one reverse speed.
Unlike a rotary cultivator, a rotary tiller has no wheels: the small wheel you can see—at the rear of the MH 155 K and at the front of the MH 175 RKS—is used to transport the machine more easily and should be raised off the ground before starting work.
Do you have limited space for storing gardening tools? Do you keep them in the garage with your car and household clutter? If so, it's better to choose a rotary tiller that is compact and perhaps even foldable. The footprint of the MH 175 RKS is 140x80x82 cm and its length is significantly shortened when you turn the handlebar 180°, so the machine will even fit into your car boot.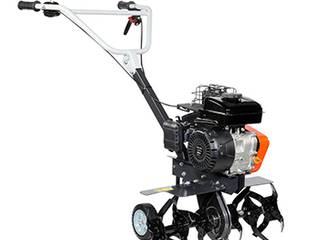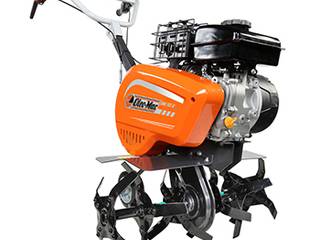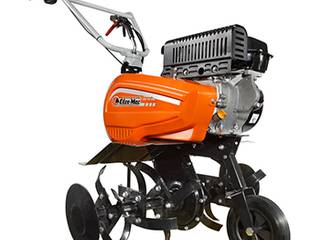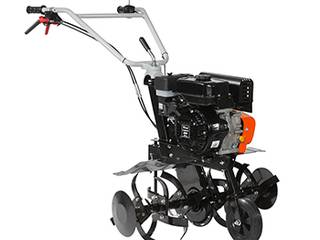 The best rotary tiller? It should be safe
You always need to be mindful of safety, and that includes when working your vegetable patch with a rotary tiller. So, consider whether it has a:
Guard that protects you from stones and soil kicked up by the rotor
Protection discs on the ends of the rotor, which provide protection at the sides
Slow reverse gear
In addition, when preparing soil it is advisable to wear anti-cut boots or ankle boots as well as protective goggles (these and other protective clothing items are supplied by Oleo-Mac).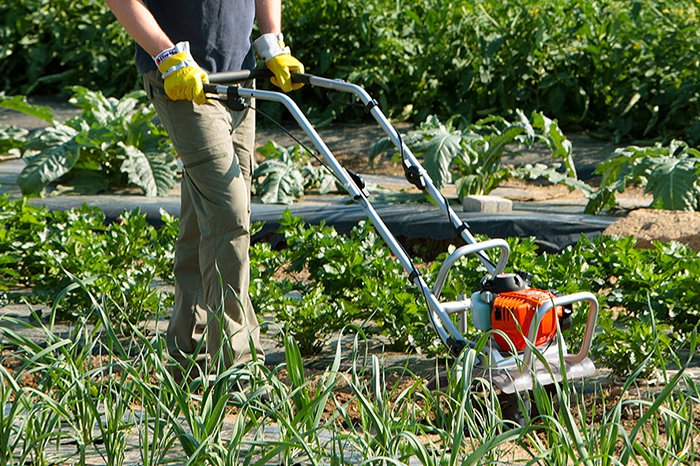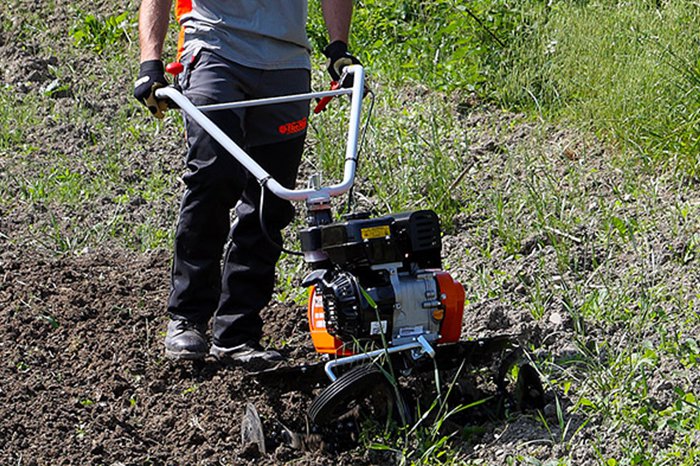 Which rotary tiller should I buy? Consider the extras too
When choosing the best rotary tiller for your needs, consider whether a multipurpose rotary tiller might fit the bill: this gardening tool can be converted for different tasks using special rotary tiller accessories, to prepare or till soil, dig furrows and so on.
For instance, the MH 175 RKS medium power rotary tiller can be fitted with a plough to prepare soil for tillage, or to penetrate hard or uncultivated land. But you can also mount a potato digger, or a furrowing tool for hilling or digging.
Do you want to see the MH 175 RKS in action? Watch this video by Matt The Farmer, who is using a rotary tiller to till soil in a vegetable garden.