Water is an essential element not just for us humans, but for plants too. All their biological functions—absorption and distribution of nutrients, photosynthesis, growth etc. —depend on the availability of water. Therefore, watering plants and irrigating the garden are essential for adding moisture to the soil, especially in the hottest months of the year when rainfall is scarce.
One tool that can help you with these tasks is a suction pump that conveys water to the irrigation system, (i.e. hose pipe), distributing it optimally, quickly and without you needing to do anything else. Let's see how in the following paragraphs.
What a self-priming pump is for: the heart of the irrigation system
An irrigation pump is design to increase the speed (i.e. pressure) of water drawn from a water source and transported across a certain distance, so that it can overcome any unevenness in the terrain. What type of source could that be? A rainwater tank or water butt, the overflow of an artificial lake, a canal or a well.
An irrigation pump for the garden or vegetable patch is therefore the heart of the irrigation system: a system of pipes that conveys water from one place (the source) to another and distributes it to plants by means of a simple watering gun or network of sprinklers, whether above or below the soil surface. The best available solutions are drip sprinklers and spray sprinklers.
How to choose a water pump for watering your vegetable patch or garden
Among the different types of water pump, the most practical for lawn irrigation and small jobs in the countryside are those that work on the surface (not submersible), such as the Oleo-Mac WP 300 and SA 30 TLA self-priming pumps: compact, lightweight and reliable. With a full tank, their 2-stroke engine guarantees you an hour of autonomy.
When considering your irrigation needs—surface area of the watered area, distance from the source, specific water consumption of the vegetation—there are some key features of garden water pumps that you need to evaluate. Namely the flow rate, i.e. the amount of water pumped during a given time; the hydraulic head, meaning the elevation difference between the point at which the water is drawn and the point at which it is pumped out; and, of course, the rated power of the motor.
The low-consumption and quiet-running WP 300 self-priming water pump is perfect for amateur gardeners and vegetable growers: it has a maximum flow rate of 150 l/min and a maximum head of 36 m for a 1 kW motor, plus a low weight (5.5 kg dry). For the most demanding gardeners, or for irrigating larger areas, including farmland, the SA 30 TLA water pump is the most suitable model: maximum flow rate 270 l/min, maximum head 30 m, power 1.6 kW. With a steel shaft and connecting rod, it is built for intensive and prolonged use, while the steel frame makes it even more robust and easy to transport.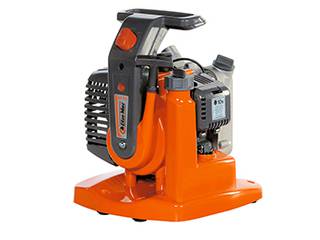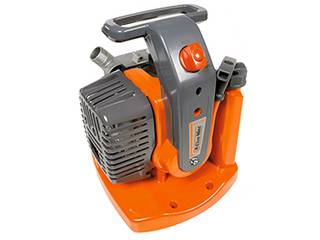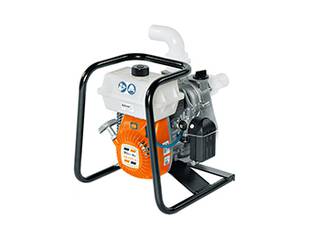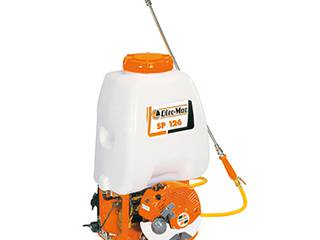 How to use a water pump for irrigation
These are the essential steps to follow when using a water pump for irrigation:
Connect the pump to a water source using rigid piping.
Attach a filter to the suction tube.
Connect the delivery port with appropriate connections to the outlet pipe.
Prime the pump.
Now let's explain those steps in more detail.
Preparing a water pump for watering is a straightforward procedure. First, it must be connected to the water source via a rigid pipe—ideally a spiral hose—fixed to a suitable and tight suction port with water pump fittings. It is important that the water suction pipe does not leak and that no air gets inside it, otherwise the pump impeller would work in a vacuum without drawing water, thereby damaging itself in the process. Oleo-Mac supplies fittings kits, including clamps and gaskets of various sizes and for all needs.
At this point, we advise taking a precaution. Depending on the quality of the water, you may have to attach a filter to the suction tube in order to avoid soil, sand, small stones and other impurities entering the pump and damaging the impeller. For this purpose, Oleo-Mac offers a series of filters among its line of accessories for water pumps.
Therefore, the delivery port (i.e. outlet) of the water pump must be connected using appropriate fittings to a second pipe which, via any other connections and routing points that may be needed, conveys water to the terminal elements of the irrigation system, that is to say the sprinklers (or water gun).
Now the irrigation water pump is almost ready. Before starting the engine, however, it is essential that you perform a simple yet vital task to prepare the water pump itself: priming. This involves purging air from the pump body by filling it with water from the corresponding charging hole, using a watering can for example.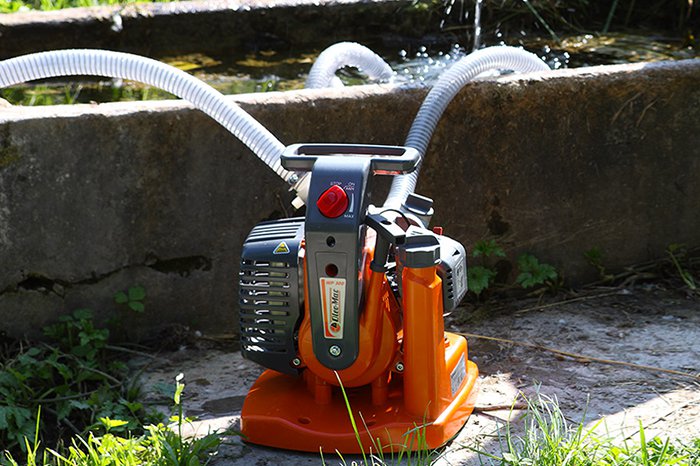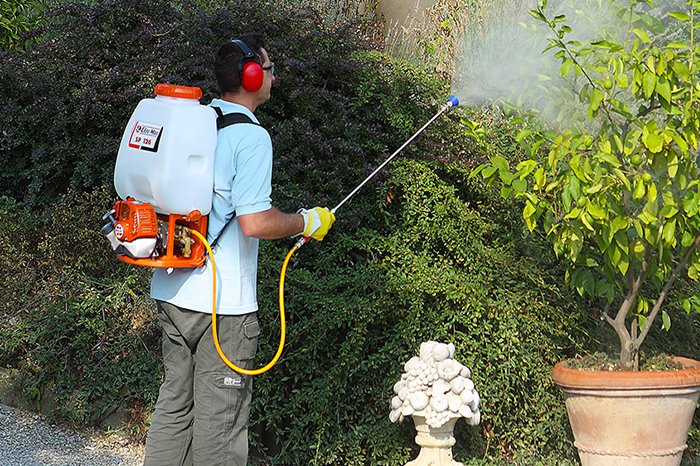 Solution for watering potted plants
For places where there is less need for an irrigation system, such as in a small garden with numerous potted plants, one solution could be a professional backpack sprayer such as the Oleo-Mac SP 126, with a maximum flow rate of 8 l/min and power output of 0.9 kW. The large 25-litre water tank and low-consumption 2-stroke engine ensure lengthy sessions between refills and make watering faster and more practical compared with a watering can.