The new Oleo-Mac MH 198 RK rotary tiller offers the ideal labour-saving solution for growers and groundcare professionals managing appreciable workloads, typically flower and vegetable gardens, and medium-size or even large expanses of soil.
Compact and easy to handle, while at the same time powerful and reliable, it can be used even in restricted spaces or around low hanging plants: with two forward speeds plus reverse, and fully adjustable handlebars, the new Oleo-Mac MH 198 RK rotary tiller will adapt to the needs of any user and to different kinds of work, and always guaranteeing maximum operator comfort.
The engine guarantees top performance, not least by virtue of the chain drive transmission and oil-immersed gears to which it is coupled.
Medium power rotary tillers
MH 198 RK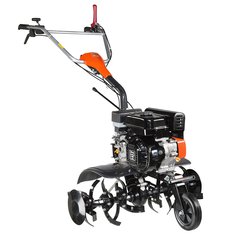 Displacement 182 cm³
Rotor 3+3 blades - 85 cm reducible to 60 cm, with protection discs
Handlebars fully adjustable