Oleo-Mac wheeled brushcutters deliver exceptional cutting quality when tackling dense and thick-stemmed vegetation or medium-diameter brushwood. Typified by high strength, cutting power and superior operator comfort, these machines enable jobs of this kind to be completed swiftly and efficiently.
The powerful and reliable engines, designed to ensure consistent performance and maximum power transmission, are paired with a belt and chain propulsion system that ensures protection of the machine itself in the event of difficulties.
Products designed for drastic interventions on grass, green waste, branches, low vegetation, scrub and stubble: Oleo-Mac wheeled brushcutters will always serve you well. Boldly go where conventional lawnmowers fear to tread. Whether you are a home user or a professional, now nothing can get in your way!
Buy one now at our specialist dealers.
Wheeled Brushcutters for home use
DEB 517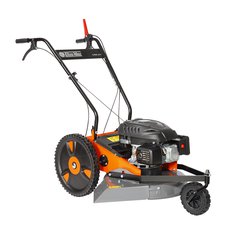 Displacement 173 cm³ (4.3 HP)
Cutting width 51 cm
Wheels diameter 200-420 mm with single front wheel in plastic
Wheeled Brushcutters for intensive use
DEB 518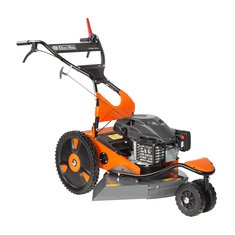 Displacement 190 cm³ (5.4 HP)
Cutting width 51 cm
Wheels diameter 200-420 mm with double front wheel in plastic
Professional Wheeled Brushcutters
DEB 5158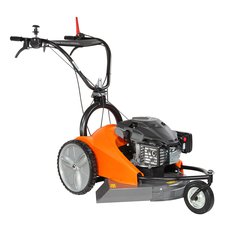 Displacement 190 cm³ (5.4 HP)
Cutting width 51 cm
Wheels diameter 200-370 mm with single front wheel in metal
Professional Wheeled Brushcutters
DEB 528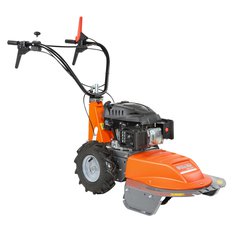 Displacement 225 cm³ (5.3 HP)
Cutting width 52 cm
Wheels tyred 3.50x6" with anti-puncture liquid