Compact and high-performance model, designed for home gardeners and professional operators. Grass, shoots, low vegetation and scrub are the ideal working environment.
The compact dimensions of the rotor unit make this machine highly manoeuvrable in confined spaces and when moving between work areas. No type of terrain is off-limits, thanks to the large tyred wheels.
A versatile machine that easily adapts to different types of environments and cuts.
Already available to purchase from our specialist dealers!
Flail-mowers for intensive use
WB 50 K800H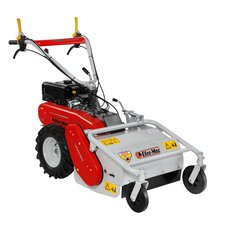 Displacement 182 cm³
Cutting width 50 cm - 26 blades
Wheels 4.00x8" + 2 swivel with lock