When it comes to gardening tools, you will have noticed how, generally speaking, grass cutting tools are in greatest demand. And you are spoiled for choice, from lawnmowers to brushcutters, garden tractors and flail mowers. When deciding which to use, you simply need to understand what the tool can do for you based on the characteristics of the land you are mowing, the type of vegetation, the mowing frequency, the context and so on.
Today we focus on the number-one gardening tool: the lawnmower. Which is the best one? You probably know what our answer is going to be: it depends. So, let's see together which lawnmower you should choose, between petrol-engine, battery-powered or electric models.
Lawnmower: which one to choose and how?
Buying a lawnmower starts with a basic decision: motor or engine? Should you buy a petrol-engine, electric or battery-powered lawnmower? The starting point for your decision is the power unit (engine or motor), because it determines a number of variables that you need to consider for your lawnmower: first of all the power output, followed by starting, ergonomics and also maintenance, which itself is a significant factor. Let's examine them in detail.
The power output of a lawnmower is directly proportional to its performance. With a powerful lawnmower you can easily tackle tough vegetation, large lawns and difficult terrain (sloping and/or irregular). In these cases we recommend a professional petrol engine lawnmower such as the Oleo-Mac MAX 53 TK ALUMINUM PRO.
As a general rule, petrol lawnmowers are more powerful than battery-powered and electric lawnmowers, although they come in a variety of sizes to meet every need. Not only professional, but also entry-level models such as push-type lawnmowers—including the G 44 PK COMFORT PLUS for small and medium-sized lawns—plus, of course, a whole series of mid-range solutions: take a look at the Oleo-Mac petrol engine lawnmower catalogue.
Mowers can be started either using a pull cord, which is the conventional method for petrol-powered models, or electrically. In the latter case, you simply press a button to turn it on: this is typical of electric and battery-powered lawnmowers, as well as electric start petrol lawnmowers like the G 53 TKE COMFORT PLUS. Quick, easy and effortless to get running, it is designed specifically for users who prefer a petrol engine lawnmower but are unfamiliar with conventional starter rope systems.
Speaking of usability, lawnmower ergonomics essentially includes aspects such as weight, overall dimensions and noise emissions. Noise really should be taken into account if you live in a residential area. The quietest machines are electric lawnmowers and particularly battery-powered models.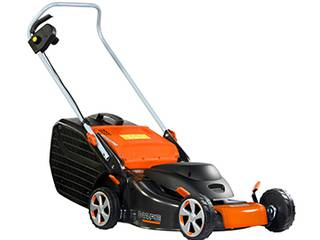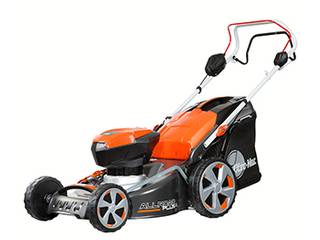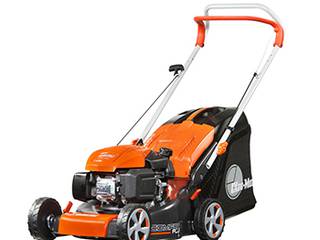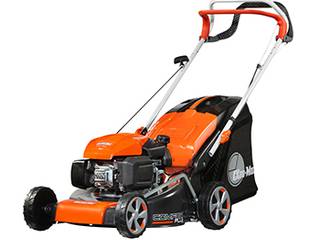 Maintenance of electric and battery-powered lawnmowers involves checking that the cable and batteries are intact and—as with all types of lawnmowers—cleaning and checking the deck, air intakes for motor cooling, underbody, blades and grass-catcher.
For petrol engine lawnmowers, maintenance is more demanding: for example, the air filter and cylinder fins need to be cleaned, the spark plug must be checked and the engine oil changed. Here in our blog you can learn more about how to maintain lawnmowers.
When choosing the best lawnmower for your gardening, also pay attention to:
Propulsion system: either push-type—as with the G 44 PE COMFORT PLUS electric lawnmower—or self-propelled, like the G 48 TK COMFORT PLUS self-propelled lawnmower or the Gi 48 T battery-powered lawnmower. To find out more, you can read this article on the operation of self-propelled lawnmowers, which are a must for mowing very large surfaces and bumpy or uphill terrain.

Cutting-related features: lawnmower cutting width (goes hand in hand with working speed and also overall dimensions), grass height adjustability, grass discharge system (rear/side), grass box capacity and availability of mulching cut.

Materials used for the deck, blades, wheels and the various mechanical and non-mechanical components. Depending on the model of lawnmower and therefore its cost, the materials may be synthetic polymers or metals, but it goes without saying that strength and durability are imperative.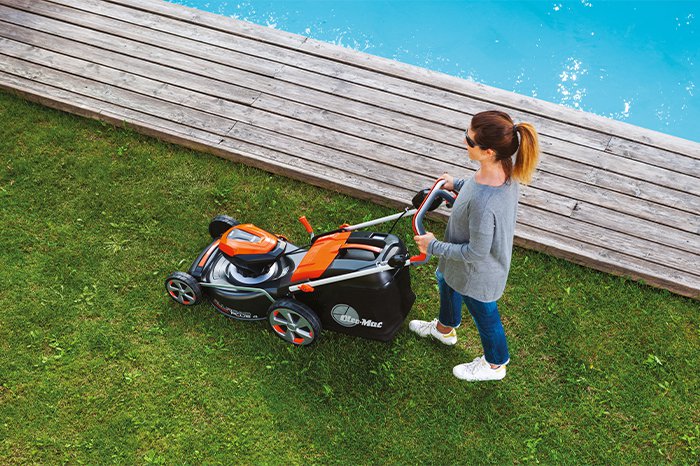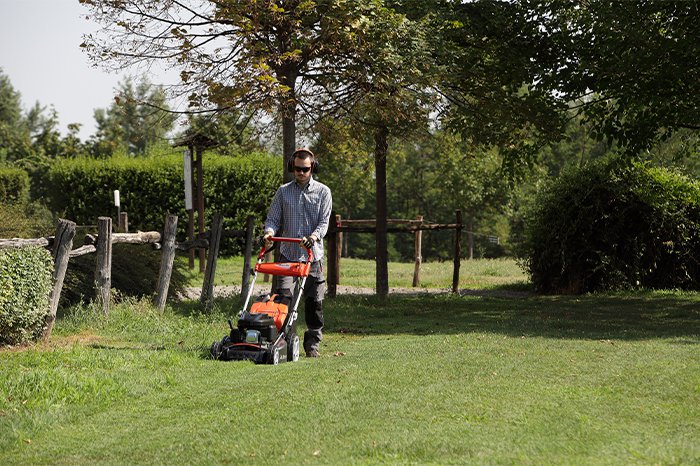 All these considerations about which lawnmower to choose and how should be weighed up against your practical needs:
Size and characteristics of the area to be mowed: is it a small lawn or a large plot of rough and sloping wasteland?

Characteristics of the vegetation to be cut: is it grass, tall and strong grass, weeds or something else? If you need to clear brambles, small-medium shrubs, reeds, crop or pruning residues, we recommend using a professional petrol engine brushcutter or flail mower (follow this link to find out when it is better to use a flail mower to cut grass).

Mowing requirements: is it a surface that needs to be kept tidy at all times, trimmed every now and then—like the lawn of a second home—or cleared a couple of times a year?

Environment: are you mowing in the city or countryside? Are there any houses nearby? Is it a place served by the mains power grid, or an isolated spot?
So which is best: electric, petrol-engine or battery-powered lawnmower?
Battery-powered and electric lawnmowers are perfect if you have a lawn that is flat and regular, or even sloping, depending on the model's power output and propulsion system. As we said at the beginning, the power rating determines whether a particular model is right for your needs, in relation to the type of grass you are mowing and the characteristics of the terrain you are working on.
Based on their weight and size, battery-powered lawnmowers (as well as petrol-powered ones) are relatively manoeuvrable and can therefore easily skirt around garden obstacles such as trees, flower beds, outdoor furniture and so on. With electric lawnmowers you need a power outlet nearby to connect the power cable, which must be kept in view and out of the way as you cut.
Compared with petrol-powered lawnmowers, electric and battery-powered lawnmowers are quieter, non-polluting, easier to start and maintain, and don't need refuelling. With a battery-powered machine you can work continuously without worrying about the cable, until it's time to replace the battery, which only takes a moment.
For example, with the Gi 48 T self-propelled battery-powered lawnmower—which is fitted as standard with two 5 Ah batteries and a fast battery charger—you can mow lawns up to 500m² and the charging time is just 70 minutes. With the Gi 44 P push-type model, the running time increases to 700 m². Oleo-Mac batteries are interchangeable, meaning that you can use them on all of our battery-powered range, whatever the type of machine: not just lawnmowers but also brushcutters, hedgetrimmers or blowers. So if you already have one of our batteries, you can buy the lawnmower on its own, at a lower price.
Do you want to learn more about the running time of battery-powered gardening tools? We talk about it in our article on how much gardening you can get done on one battery.
Still uncertain about which lawnmower to choose? Then also read our buying guide focus on lawnmowers: find the right model for you.