A beautiful lawn is the dream of every gardening enthusiast: green, lush, uniform and healthy. But the reality is that we often find ourselves with patches of thin, sparse grass, areas of exposed soil and weed infestations. Traditional lawn sowing unfortunately doesn't always deliver the desired results.
One excellent alternative is a turf lawn: by that we don't mean artificial grass, but a real grass lawn that is already mature and bought in rolls of varying size. And if you dream of having an immaculate lawn, you can even buy English-style grass turf from your local gardening store. Simply lay it down and your lawn is ready, without having to wait for the grass to grow or worry how it will look once grown.
You can lay turf by yourself, especially if your existing lawn has recently been dug up, for example to install a sprinkler system or carry out building maintenance. In this article we explain how to lay a turf lawn.
Prepare the soil for laying turf
Real grass turf is grown and harvested specifically for sale in the form of rolled up turf strips. It can be laid at any time, but spring and autumn are the best times due to the suitable temperature and rainfall, as rain actually helps the grass roots to extend deeper. Hence why irrigation is essential, but we'll come to that later.
Turf strips, also called sod grass, should always be laid fresh, or no later than 48 hours after delivery, otherwise it will dry out. But before laying, you need to prepare the soil and, at least 10 days before doing so, eliminate any weeds with herbicide.
To prepare the soil on which the turf will be laid, till it using a rotary tiller. This loosens the earth so that the roots of the turf can breathe, grow and take root. For a small garden, use a compact rotary tiller such as the Oleo-Mac MH 130, which incorporates a 30 cm rotor with four blades and a 25cc 4-stroke engine.
Remove stones, roots and other debris, and use soil conditioners to balance the characteristics of the soil, so that it provides the best conditions for turf laying. Turf grows better on soils that are not too clayey, so add a 5-10 cm base layer of sand, then till the soil a second time with the rotary tiller to mix everything together. At this point, fertilise the soil following the manufacturer's instructions, using a fertiliser that promotes root growth.
Level the soil to avoid bumps and holes that might collect stagnant water, then roll it. For this task you can use a hand-push lawn roller, or one that is towed behind a tractor mower.
To transport sand bags, fertiliser packs, gardening tools and lawn rolls you'll need a wheelbarrow or, even better, a tracked transporter. Oleo-Mac supplies the CR 340 K compact transporter, which is ideal for gardening jobs.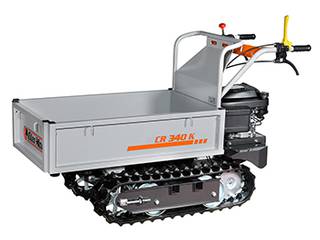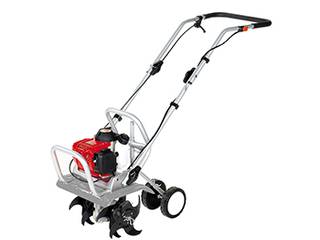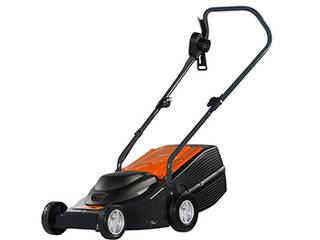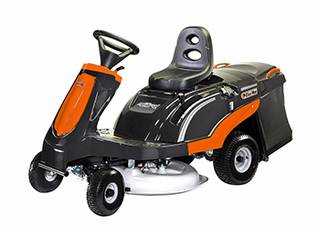 Lay the turf carefully
First plan the task: if you bought the turf you should already have made a sketch of the garden, divided into areas as regular as possible and each labelled with the respective measurements. Carefully work out the longest side of the area, aligning yourself with a fixed element such as a driveway or path that will serve as a reference point.
Before starting to roll out the turf, water the ground so that it is moist, but not soggy. Starting from your reference point, unroll the turf strips, laying them end-to-end in a row. Then lay another row alongside it and so on. Make sure that there are no gaps between the strips (otherwise the edges will dry out) and that the joins along the short ends are not aligned with those in other rows, but staggered just like rows of bricks: this will make them much less noticeable.
Shorten the strips as needed with a knife and cut out made-to-measure pieces to cover small spaces, irregular areas and corners. Try to leave the strips intact as much as possible or at least use large pieces, since small sods tend to dry out more easily.
Avoid trampling on the newly laid turf: create walkways using wooden planks so as to avoid having to walk on the grass itself. The turf must have good contact with the soil underneath, so once laying is completed, roll the lawn to bed it in.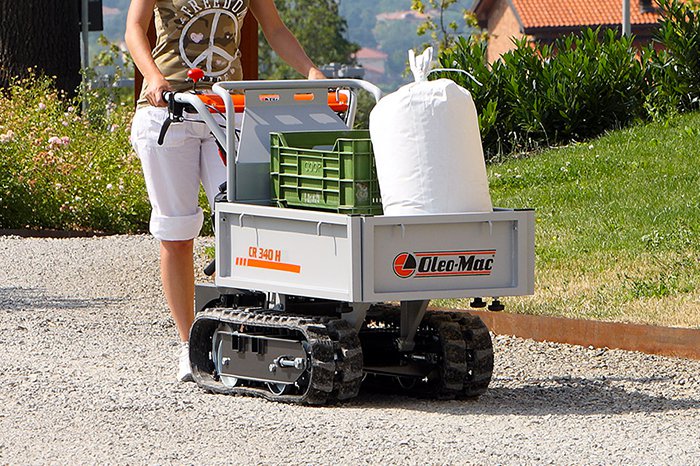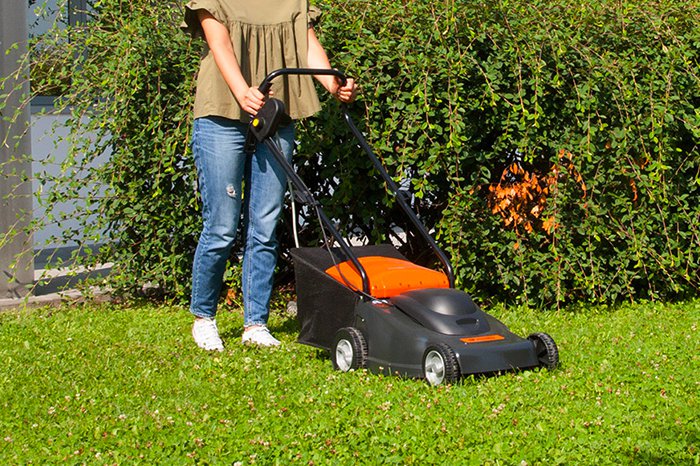 Caring for your new turf lawn
Once it is laid, water your new lawn heavily and keep it moist for the first 2 weeks so that the turf takes root in the topsoil: how frequently you water it depends on the time of year. Thereafter, the grass only needs watering a couple of times per week.
Once the turf has grown to a height of 8-10 cm, cut it down to 4-5 cm. If you have a small garden, you can mow it with a lawnmower such as the Oleo-Mac K 35 P electric push-type model, which has a 1.1 kW power output and 25 l grass catcher. Thirty days after laying, apply lawn fertiliser.
Care for your turf lawn with periodic maintenance including regular watering, mowing and fertilising, depending on the type of grass and the current season. Cutting the grass keeps it healthy and controls weed growth. It is important to mow when the grass is dry and ensure that the blades of your lawnmower are sharp and clean.
It is preferable to collect the grass clippings or, alternatively, use a mulching cut system that finely chops and spreads it over the ground, where it quickly decomposes and acts as a natural fertiliser. With a manoeuvrable rider mower such as the Oleo-Mac MISTRAL 72/13 H, which is suitable for gardens up to 4000 m² in size, you can choose your preferred cutting mode, selecting either rear discharge or collection (with 180 l grass catcher), side discharge (always a standard feature) or mulching.