The period from late autumn to near the end of winter—early November to February—is the time for winter pruning (also called dry pruning). In general, pruning should be done during the vegetative rest period when plants' vital activity is at a minimum, avoiding the coldest weeks to prevent frost aggravating the damage caused by cutting. This applies to deciduous as well as evergreen trees, because during winter, the risk of parasitic attack is lower, whereas in autumn, the damp weather creates the ideal conditions for fungal spores that attack wood.
Pruning is synonymous with chainsaws and telescopic pruners. In today's article we focus on petrol engine telescopic pruners, explaining how they work and their different potential uses, especially in autumn and winter.
How telescopic pruners work
There are different types of telescopic pruner: manual or motorised (fuel, electric or battery powered). What they all have in common is the handgrip with telescopic pole, which consists of concentric sliding tubes that enable the length of the pole to be adjusted.
So how does a telescopic pruner work? It's a gardening tool that literally extends the capabilities of pruning tools, both manual and motorised, thanks to the extensible pole. And with a powered telescopic pruner, as opposed to a manual pruner, you have all the benefits of a chainsaw, namely you can prune hard wood, thick branches and numerous branches without limitation.
Leaving manual telescopic pruners to one side, let's focus on motorised telescopic pruners, which have a cutting system consisting of a guide bar and chain that is identical to that of chainsaws. One example is the Oleo-Mac PPX 271 professional petrol engine pruner, which outputs 1 kW of power and is compatible with 25 cm bars, similar to a pruning chainsaw.
Compared with a pruning chainsaw, which you have to directly manoeuvre to change the cutting angle, with the PPX 271 professional telescopic pruner you can tilt the bar through 5 positions from 0 to 90° to ensure optimal visibility and cutting. In addition, with the handle extendable to over 3 m, you can reach branches at a height of 5 m above ground level while still maintaining good stability and a firm grip.
With a telescopic pruner, whether it's a professional and hobbyist model, you can do jobs that would otherwise be impossible:
You can cut at different heights while maintaining your balance, either at ground level or high up (in an aerial platform).
You can cut without needing to climb a ladder, which is dangerous when you're carrying a telescopic pruner or chainsaw.
Cut without having to climb the tree with your pruning chainsaw, a task that only professional arborists should undertake.
Cut out-of-reach foliage such as overgrown shrubs, and overcome obstacles (such as fences).
For chainsaws as well as telescopic pruners, lubrication is vital for smooth operation and makes the bar and chain last longer: we talk more about this in our article on how a chainsaw oil pump works and how to maintain it.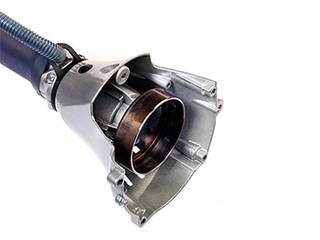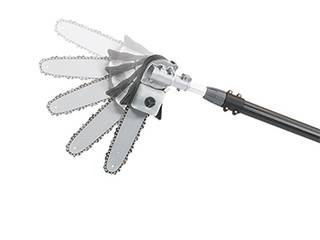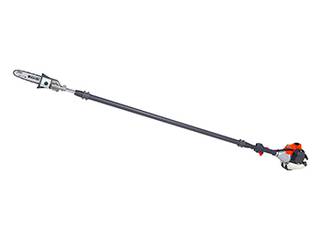 All the uses of a telescopic pruner: routine and remedial pruning
You can't rely on plants to self-prune so that unproductive branches dry out and fall off: pruning needs to be done as well, because it not only makes trees and bushes look nicer, but also improves their health.
On adult plants you can use your professional or entry-level telescopic pruner for all types of routine pruning, i.e. periodic garden maintenance:
Remove dead and broken branches, for aesthetic reasons and to prevent disease. This is a task that (in principle) you can do any at time of year, even during winter pruning.
Thin out the canopy to aerate it and let in light, by cutting off entire branches or shortening them, so that the foliage doesn't get too dense. The optimal time to perform dry pruning depends on the species, but should be done during the period of minimum vegetative activity.
Eliminate water sprouts and suckers, which are respectively branches that develop at the base of a trunk or from the roots, and vigorous branches that grow vertically on the trunk or on other branches. However, this activity is best carried out during summer.
Besides routine pruning of mature plants, with a telescopic pruner you can perform remedial pruning, which is necessary in particular situations:
Containment pruning and crown lifting: for treating plants that are too close to buildings, power lines or other vegetation etc., or which have lower branches that obstruct the passage of people or cars.
Rejuvenation pruning for trees and shrubs damaged by bad weather, trauma or improper pruning.
Removal of parts affected by parasites, to prevent them from spreading.
If you have fruit trees, with a telescopic pruner you can also:
Renew productive branches to "replace" those that are no longer productive.
Balance the production of vegetables and fruit.
Optimise the quality of the fruits.
Reduce the dimensions of the plants, making it easier to harvest and tend the orchard.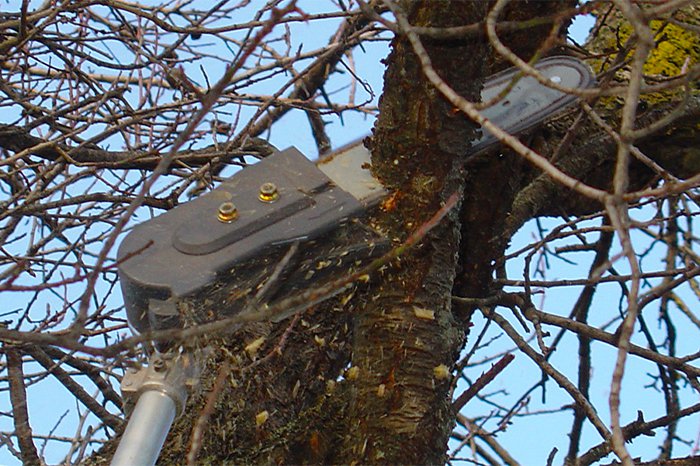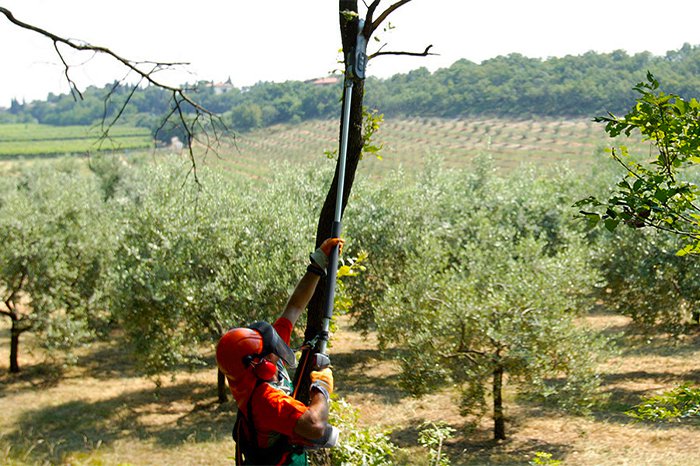 What is the best telescopic pruner
If you want to cut quickly, deal with large branches and solid wood or prune a large number of trees, such as in woodland or in an orchard, the best telescopic pruner is the Oleo-Mac professional petrol engine pruner and multi-functional brushcutter, which converts into a telescopic pruner when fitted with the appropriate accessory, in just a few seconds and without the need for tools.
If you are considering buying a telescopic pruner, we suggest you read the tips in our guide to selecting the best pruner for high branches.
We round off this article with an important recommendation: whenever you're working with a pruner (or with a chainsaw), for safety purposes always wear protective anti-cut clothing. These clothes, footwear and accessories will protect you from cuts, falling branches, wood splinters, vibrations and noise. We discuss this in our article on chain-resistant forestry clothing to work comfortably and safely.