They are invaluable for safely and effortlessly transporting heavy and bulky loads in any location. In the garden, in the countryside, in woodland; on level ground, on hills and mountains; on terraced land, on paths, mule tracks, steps, or across terrain that is compacted, soft, stony, regular or uneven.
We are talking about transporters, which are much more than just motorised wheelbarrows. There are several types on the market, but today we will focus on tracked transporters, which you can use for both gardening and working in the countryside and woodland.
Why a transporter is more than just a motorised wheelbarrow
On the market you will find tracked transporters and models with tyred wheels, but only tracked transporters are suitable for the most demanding jobs and the trickiest situations. This article focuses specifically on tracked wheelbarrows which you can use for gardening, growing, transporting wood and even construction work.
With a tracked transporter you can transport crates of fruit, wood, soil and construction materials, equipment and everything needed to take care of a garden, vegetable patch or orchard, or even collect firewood in the forest. Calling them "motorised wheelbarrows" doesn't do them justice in our opinion, because with a tracked transporter you can transport loads safely and effortlessly (because they travel independently, you just point them in the right direction), including:
Heavy materials

Bulky loads

Over long distances

On slopes

On rough terrain

On yielding ground
You can take advantage of a tracked transporter's power on rough terrain, along paths, mule tracks and steps, as well as on terraces, where space limitations require a compact vehicle capable of precise manoeuvres. By the way, if you're thinking about how to get a sloping garden in shape, check out our blog article on how to terrace your garden.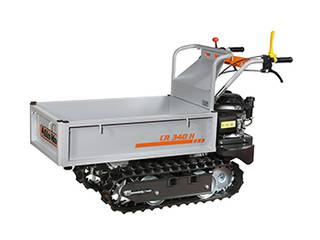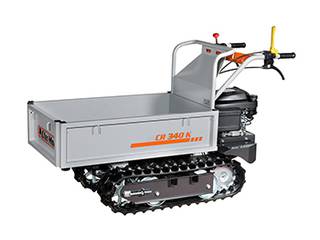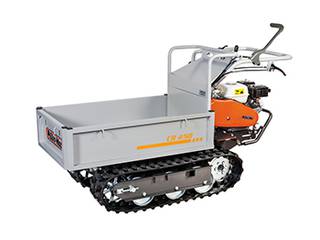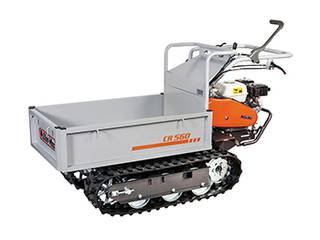 How to choose the transporter best suited to your needs? What should you take into account? This is our checklist:
Wide, thick tracks

Appropriate power rating

Transmission, gears and top speed

Telescoping loading deck

Maximum load capacity

Tipping system

Maximum climbing ability
As the name "tracked transporter" suggests, the tracks are the key component. Thanks to the deep tread grooves, they adhere to the ground better than wheels. Grip is further improved by the low centre of gravity of the transporter itself.
The large track surface helps the transporter's drive wheels to turn, enabling you to easily travel over yielding terrain (mud or soft earth, for example) and also preventing the ground from compacting. Furthermore, the tracks enable the transporter to travel smoothly even on uneven ground, gliding over bumps and divots without jolting like a wheeled vehicle would.
So choose transporters with wide tracks, such as Oleo-Mac compact transporters and professional transporters, which have 17 and 18 cm rubber tracks respectively, with a thick tread and deep grooves.
Tracked transporters can be driven by an engine or battery: their power rating must be sufficient to cope with heavy loads and long trips over arduous terrain. In terms of transmission they are equipped with gears for travelling in both directions: for example, Oleo-Mac transporters have 4 or 6 gears, allowing you to reach a top speed of 3.6 km/h with a compact transporter, or up to 7 km/h with a professional model.
To give you maximum flexibility and adapt to the bulkiest and heaviest loads, the transporter's tipping platform must have an expandable deck that can be used within the vehicle's maximum load capacity, stability and safety limits.
You can widen the loading deck to 90x106 cm on the Oleo-Mac CR 340 H and CR 340 K compact transporters, 94x106 cm on the CR 450 professional model and as much as 110x118 cm on the CR 560. In addition, for transporting very bulky materials you can raise the sides of the deck with the high sides kit, which is available for all models.
The maximum load capacity varies according to the type of transporter: tracked vehicles have a higher load capacity than those with tyred wheels, proportional to the engine power rating. On the other hand, to ensure stability and safety, the load must be balanced, not protruding or piled too high above the deck, so as to ensure perfect visibility at all times.
What is the load capacity of Oleo-Mac transporters? It ranges from 350 kg for the small models and 450 kg for the professional CR 450 model, to over half a tonne (550 kg) for the CR 560.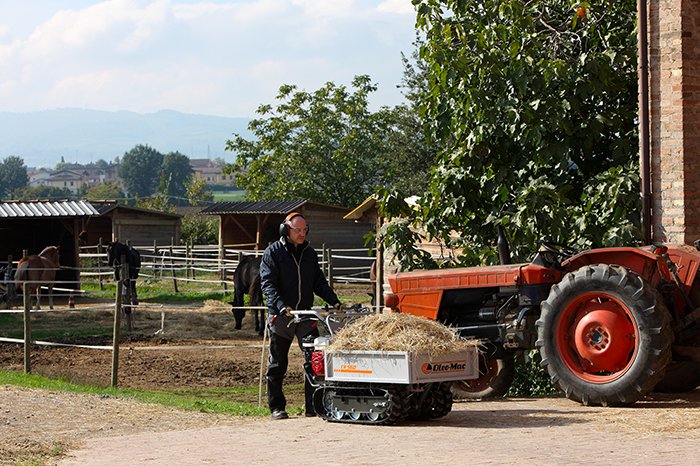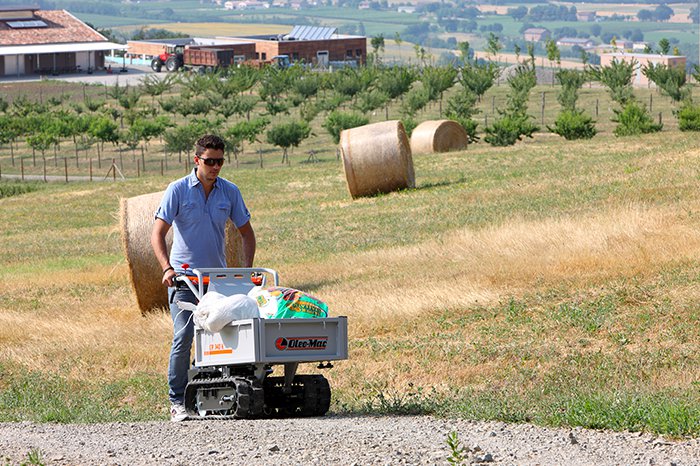 Decide which tipping system for unloading the deck is best suited to your payload and maximum load capacity requirements: manual or hydraulic?
Last but not least, evaluate the maximum gradient that you need your tracked transporter to climb based on the environment where you usually work: this is the safety limit within which you can transport payloads uphill and downhill. With Oleo-Mac transporters you can safely climb gradients of up to 17%.
So how much do transporters cost? Prices vary depending on whether they are tracked or tyred, as well as based on their power supply, power rating and maximum load capacity. Take a look at the prices of Oleo-Mac transporters in our online store.
Still unsure why a tracked transporter is a great investment? Here are 3 reasons why you won't be able to do without a transporter, together with information on how to transport loads safely.