Crop spraying is an indispensable operation, required in particular during the summer months to protect against the appearance of diseases and safeguard the integrity of plants and harvests. It is important to use the right equipment for this kind of treatment. Among the most popular items, undoubtedly, are the sprayer and the mistblower. In this article we take a look at the main functions of these machines, and the differences between them.
Sprayer for weed control and plant care
Sprayers are designed to access areas that require specific treatments, for example those involving the use of weedkillers, and can also be utilized to deliver moisture and nutrients direct to plants themselves. Equipped with an ergonomic backpack, these machines are practical and easy to carry, both for professionals and for home users with their own grounds or garden to look after.
As with most items of gardening machinery and equipment, here too there are different models and functionalities to consider. The options include manual sprayers, suitable for distributing pesticides or fertilizers: treatments using relatively non-aggressive liquids and various types of droplet atomization are the main uses. Electric sprayers on the other hand are suitable for more extensive areas, such as vineyards or vegetable plots which, for example, may need disinfesting. And then there are petrol engine models offering the added power of internal combustion; these are especially popular with professionals, given their typically generous spraying capacity and notable compactness.
Sprayers with petrol engine include the backpack model SP 126, designed for treatments using weedkillers or fertilizers. Ideal for continuous duty and equipped with chrome-plated piston and brass pump, this is a machine offering extremely high strength and optimum durability.

With its capacious tank and miserly engine, this is a unit that can operate non-stop for hours on end, with no bothersome pauses for refilling and refuelling. The pressure of the jet is adjustable by hand according to requirements, and a range of different lances offer many and various spray patterns, guaranteeing a thorough atomization of droplets even across particularly large areas.
Backpack mistblower for large-area disinfestation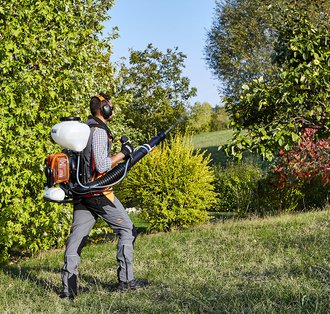 Backpack mistblowers come into play when the need is for disinfestation and related treatments applied to large areas of vegetation, vineyards or vegetable plots.
These units likewise feature an ergonomic backpack which, when strapped on, balances the weight and gives the user maximum comfort and mobility. The machine is operated easily and effortlessly from controls incorporated into the handgrip, and equipped with a petrol engine of 60 to 80 cm³ displacement. The air filter uses a double paper element, indispensable for long hours of use. In addition, MB 800 and MB 90 models have a carburettor with compensator, ensuring adaptability to any type of situation.
MB 90 mistblower: ergonomics and easy handling, even high up
The MB 90 backpack mistblower is ideal in particular for users seeking maximum ergonomic advantage at every level: the lightweight and comfortable backpack attenuates oscillatory motion and possible vibrations, while keeping the weight evenly balanced during operation.


The handgrip can be tilted to suit the position of the user's hand and give a firm hold on the tube. There are 9 nozzle settings, so that the distribution of atomized liquids can be regulated to give best results. Maintenance is quick and simple: a single key fits all of the screws used on the machine, which means that any problems can be taken care of without fuss or delay.