A high-pressure washer produces a pressurised jet of water strong enough to remove stubborn dirt. You can use it on large or small surfaces: to clean the exterior of your house (driveway, path, steps, patio, walls and edging); gazebo, garden furniture and play equipment; inground or above-ground swimming pool; gardening tools; car, moped, motorhome, boat and so on.
A high-pressure washer is not just for washing but also, with the aid of special accessories, for unclogging bathroom or kitchen sink drains, as well as drainpipes blocked by leaves and debris. You can even use it for sandblasting, i.e. removing paint and rust from metal surfaces and erasing graffiti from walls. In short, it's an all-round tool useful for all seasons, especially during those periods of the year when you are out in the garden more and can spend extra time on household chores.
Carrying out some checks before starting your high-pressure washer and regular maintenance after using it will ensure flawless operation (and results), prolong the machine's useful life and prevent breakdowns or hitches, while ensuring you can work safely at all times. Today we talk about what to do before and after you use a high-pressure washer.
How a high-pressure washer works and what to do before using it
Before explaining how to maintain a high-pressure washer, let's see how it works. The machine draws cold water from a source, which can be a tap or rainwater reserve (in the latter case, beware of impurities and fit an additional filter at the end of the suction pipe). The water passes through a pump that pressurises it, before running through a hose and emerging as a high-pressure jet (which is controlled by a gun) via a nozzle attached to the end of a rigid lance. Detergent can be added to the water jet from a special tank in the high-pressure washer. Depending on the model, the pump is powered by an electric motor, as in the case of the Oleo-Mac high-pressure washer, or a petrol engine.
All this applies to cold water high-pressure washers, like the Oleo-Mac PW 115 C, PW 150 C or PW 190 C. The water that feeds the high-pressure washer may already be hot enough for your needs, although you should check the maximum inlet water temperature in your machine's user manual (40°C for Oleo-Mac high-pressure washers). In addition, hot water high-pressure washers are equipped with a boiler where the pressurised water is heated: for example, the PW 250 HC and PW 300 HC raise the temperature of the water jet to 90°C. This means that, in addition to the mechanical cleaning action provided by cold water high-pressure washers, hot water washers also offer degreasing power, as exemplified by the best professional high-pressure washers.
To ensure that your high-pressure washer is working properly, before using it pay attention to the following:
The inlet water must comply with the minimum flow rate, temperature range and minimum/maximum pressure values specified in the user manual. Don't start the high-pressure washer if the water supply or flow rate is insufficient, as this could damage the pump and motor.

If connecting the machine to a drinking water tap, there must be a backflow preventer before the inlet connection.

In the case of an electric high-pressure washer, the system characteristics must comply with the requirements in the user manual. If the electric cable is too short, use a suitable outdoor extension cable up to 10 metres long and of suitable diameter. The plug and socket must be weatherproof and kept dry and off the ground, as should the cable and extension lead, if used.

The outside temperature should not exceed 40°C. On the contrary, in very low ambient temperatures, check that no ice has formed in the pump and pipes of the machine.

The body of the machine must be intact and not damaged (due to falls or bumps); the high-pressure hose, gun and (in the case of electric high-pressure washers) power cable must be in perfect condition. Otherwise, do not use the machine, and read our tips below on routine maintenance of high-pressure washers.

The high-pressure hose connections to the machine and gun must not leak water.

The accessories attached to the high-pressure washer mounts should be original equipment recommended by the manufacturer for that specific model.

The detergent must be recommended by the manufacturer.

The machine must always be kept dry, level and in a stable position so that it cannot tip over. Before moving it, turn it off and grasp the handle firmly, so as not to lose your grip.
Check that there are no water or oil leaks while the high-pressure washer is running. Minimal quantities of dripping water (up to 10 drops per minute) are not an issue, but if there is significant dripping, have the high-pressure washer checked by a specialist technician. For Oleo-Mac high-pressure washers, contact our sales outlets and service centres.
The work area must be clear to prevent people or cars from trampling or damaging the power cable, high-pressure hose or other components. Wear protective clothing that protects you from the pressure (and/or heat) of the water and allows you to move safely: goggles or face shield; gloves, jacket and work trousers; non-slip rubber boots.
Don't have a high-pressure washer and thinking of buying one? What should you consider when choosing the most suitable model? Find out in our guide to selecting a high-pressure washer.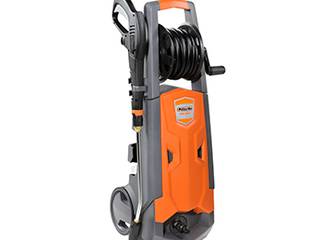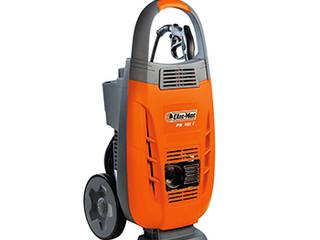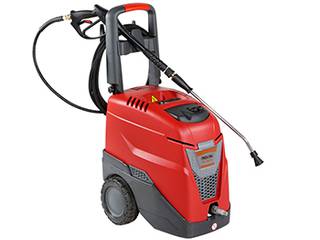 What to do after using a hot or cold water high-pressure washer
Before cleaning and maintenance, your high-pressure washer must be turned off, left to cool and placed in a stable position. To avoid chemical deposits and/or encrustations when using detergent, before turning off the high-pressure washer, clean the circuit by drawing in water for a few seconds. If it is a hot water high-pressure washer, before turning it off, run it cold for a couple of minutes to cool down the delivery circuit, then:
Close the water supply tap.

Empty the water from the high-pressure washer by pressing the gun trigger for a few seconds.

Set the power switch to the OFF position.

Remove the plug from the socket (if your high-pressure washer is electric), or disconnect the battery by detaching the spark plug cap (if you have a petrol engine model).

Eliminate residual pressure in the high-pressure hose by holding down the gun trigger for a few seconds.

Wind up the power cord of the electric high-pressure washer.

Wait for the machine to cool down.
Follow these steps when switching off your machine, even before attaching the accessories you need to convert the high-pressure washer into a pipe cleaning system or wet sandblaster.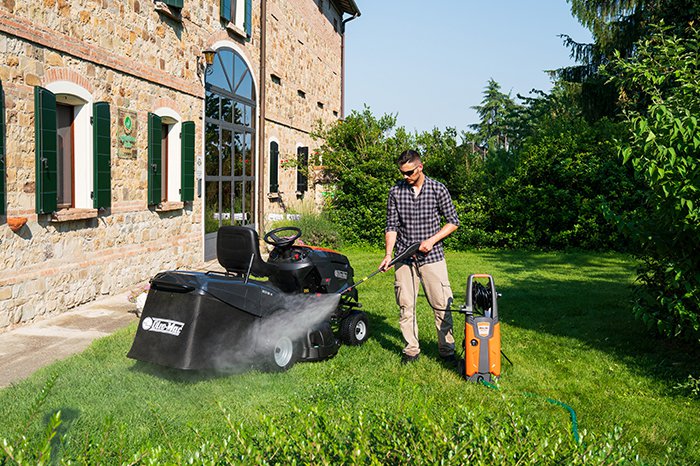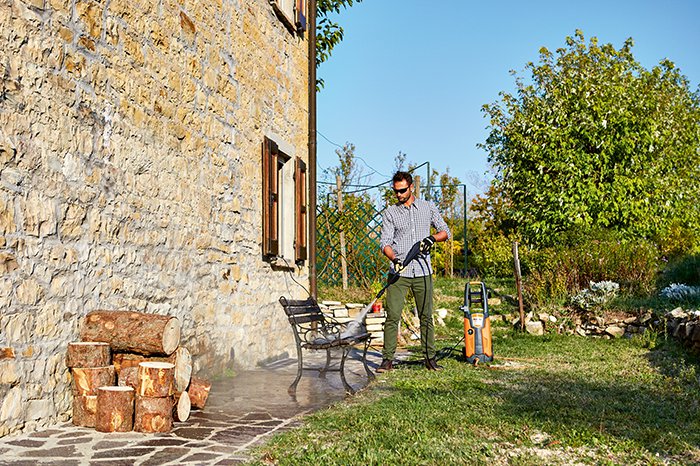 Below are the steps to follow for routine maintenance of a high-pressure washer:
After each use, check the high-pressure hose, gun, lance, fittings (and power cable, if it is electric). If any component is damaged, stop using the high-pressure washer and contact a technician. For any need related to Oleo-Mac high-pressure washers, refer to our sales outlets and service centres, where you can also buy original spare parts (which are important to ensure that the machine works safely).

Clean the filter in the supply water connection: after having disassembled it, it is usually sufficient to wash it under running water or blow it with compressed air to remove any trapped impurities. If necessary, use an anti-limescale product or replace the filter.

Clean the nozzle with a pin (supplied with several models of high-pressure washer). If necessary, the nozzle should be replaced.

Wipe down the body of the high-pressure washer with a dry cloth: do not use water, detergents or solvents.
When maintaining a petrol engine high-pressure washer, also check certain engine components, including the air filter and spark plug.
After a certain number of hours of operation (see the user manual), contact a specialist technician to carry out non-routine maintenance of your high-pressure washer. The experts at our Oleo-Mac sales outlets and service centres are on hand to carry out a check-up on the pump (hydraulic circuit, suction and delivery valves, regulation valve) and safety devices of your machine. They will also inspect the pump oil and either top it up or replace it. If the high-pressure washer is a hot water model, non-routine maintenance will also include cleaning the boiler and descaling the coil.