Grass cover-cropping your vineyard is an effective technique for manage inter-rows (the spaces between vine rows) by planting grass cover. It is an alternative to traditional inter-row soil cultivation, which is still a very common method of managing soil on vineyards.
Grass cover-cropping is now a widespread practice for protecting hillslope vineyards from soil erosion, especially in the rainiest regions. In Italy it is especially prevalent in the North, but has also spread elsewhere. It is used not only to protect soil, but also as a system for regulating the productivity of vines, in order to grow crops that are economically and environmentally more sustainable, as well as better quality.
In this article we explore the advantages of vineyard grass cover-cropping, and how to combine it with soil cultivation. Keep reading to find out more.
Vineyard grass cover-cropping: the benefits for soil, plants and the environment
We mentioned just now that vineyard grass cover-cropping is an effective technique. Why? Because, in addition to being cheaper than inter-row soil cultivation, it gives you a whole series of benefits in terms of soil protection and fertility, the health and productivity of vines, and the quality of the grapes and wine that can be produced.
Below we detail the advantages of cover-cropping your vineyard with grass:
Limits erosion and downhill soil creep on sloping and wind-exposed plantations.
Enriches the soil with organic matter, improving the supply of nutrients and making it more constant, all of which benefits the vines.
Improves the soil's load-bearing capacity, so you can access the vineyard on foot in any weather, and with any equipment necessary for various agricultural tasks, without the soil becoming too compact, thus avoiding the problem of vine roots being starved of oxygen.
Stimulates microbial activity, which makes the soil more fertile.
Keeps weeds in check, thereby minimizing the use of herbicides.
Controls vine vigour and regulates growth: this improves the quality of the grapes, and consequently the wine they produce.
It is worthwhile for two reasons: firstly because less vigorous vines means less pruning, and secondly because mowing is faster and less expensive than preparing soil.
Grass cover competes with the vines for nutrients and water: this becomes critical in the case of less fertile soils, in areas where it is not possible to irrigate or in areas prone to drought. Hence why it is necessary to choose a cover-cropping technique that suits the soil quality and morphology, the annual rainfall, the characteristics of the vineyard and the vine variety, as well as the irrigation system.
You can adapt grass cover-cropping to your situation by varying the:
Grass species: do you opt for grass cover that grows spontaneously, or plant selected species?
Grassed area: do you plant grass only between rows, in alternate rows or throughout the entire vineyard?
Duration of grass cover: is it permanent or temporary?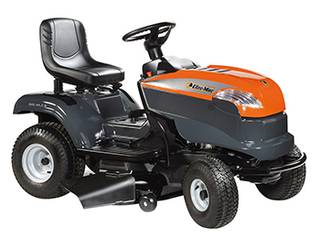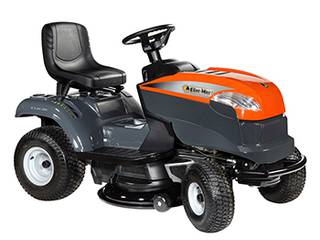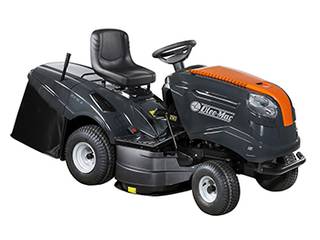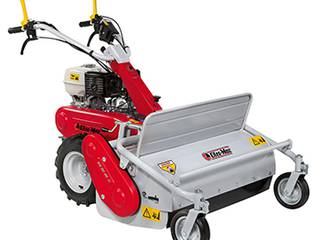 How to clean vineyard inter-rows
What is the ideal grass for cover-cropping your vineyard? It should take root quickly, be aggressive against weeds but not very competitive with vines, be resistant to foot traffic and long-lasting. In addition, it shouldn't grow too tall, averting the need for regular mowing. It is crucial to minimise inter-row cleaning tasks.
Grass cover should be controlled by mowing approximately 3-4 times a year. To save time on vineyard inter-row cleaning, you can rely on mechanical tools and use a garden tractor. For example, the Oleo-Mac OM 98 L/14.5 K model is a side-discharge garden tractor with mulching feature as standard. The mulching system enables you to chop the grass into fine particles and release them back onto the ground, where they decompose to become organic matter. It has a top speed of 8.8 km/h and a cutting width of 98 cm. Thanks to its turning radius of only 70 cm, you can manoeuvre the OM 98 L/14.5 K with ease between vine rows, on plantations spanning up to 6000 m2.
The OM 93/16 K rear-discharge garden tractor also has a mulching feature as standard; alternatively you can collect clippings in the 290 L grass-catcher. Suitable for areas up to 5000 m2, it has a cutting width of 92 cm and a top speed of 8.8 km/h.
For vineyard inter-row cleaning Oleo-Mac also offers the WB 80 HR 11 professional flail mower: a robust machine with 46 blades for cutting and mulching grass or pruning debris between and along vine rows. It has a cutting width of 80 cm. The WB 80 HR 11 self-propelled flail mower can handle vineyards up to 5000 m2 and is not averse to steep slopes thanks to its 3 forward speeds, reaching speeds of up to 3.4 km/h.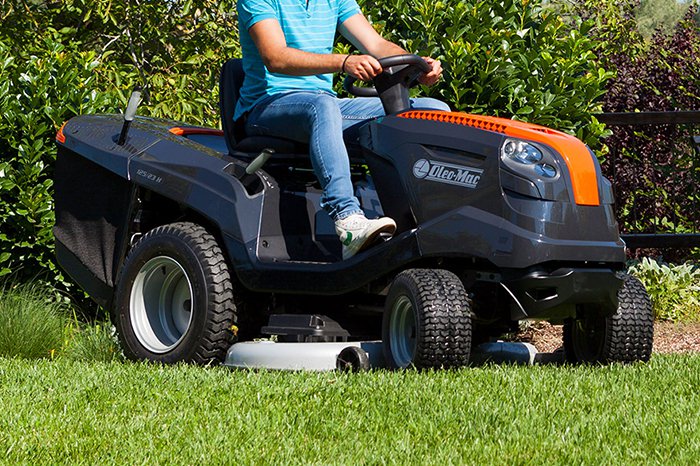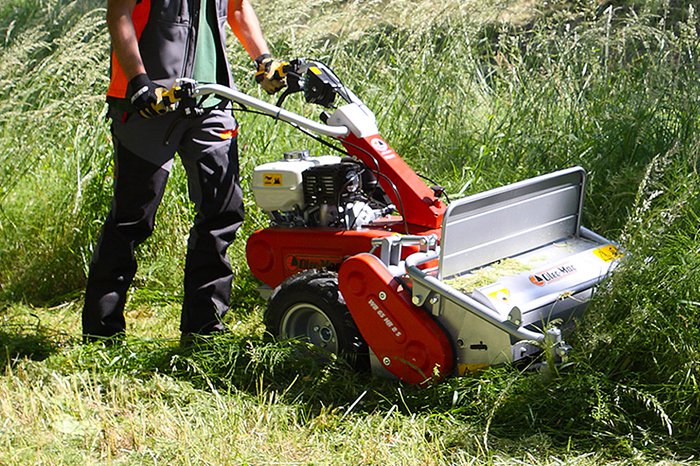 Vineyard grass cover-cropping and soil cultivation
On vineyards, soil cultivation is still one of the most popular weed control strategies. It is also used to mix nutrients and soil improvers into the ground and improves water infiltration. It is a technique that should be used with care because on slopes, it tends to accelerate soil erosion and disturbs the fertile top layer. In general, it exposes the earth to degradation of organic matter and, in the long run, creates a compact hardpan under the ploughed layer.
The technique of grass cover-cropping has replaced soil cultivation, at least to some extent, where permitted by the local climate, soil characteristics, vineyard and cultivars. But in vineyards, grass cover-cropping and soil cultivation can actually coexist in different forms:
Inter-row grass cover-cropping and under-vine soil cultivation.
Inter-row soil cultivation with temporary grass cover-cropping in autumn and winter.
Grass cover-cropping in alternate rows (every other row) with soil cultivation in the non-grassed rows.
Not just for vineyards: grass cover-cropping is an equally effective technique if you have an orchard. You can even mulch your grass clippings, which is a good way to control weeds along vineyard and orchard rows. We tell you more about that in our article about the best garden tractors for the vegetable garden, vineyard or orchard.