Cutting grass correctly is the first step towards keeping your lawn beautiful and healthy.
To do this, you need to choose a lawnmower that is appropriate for the size, shape and layout of the lawn on which you want to work, and which suits your gardening habits. A machine that is efficient and comfortable for whoever uses it, but which also lasts a long time.
The ideal lawnmower will allow you to keep the lawn short (usually around 3.5 cm), and stimulate the growth of grasses, making the turf more resistant to trampling and weeds.
Types of lawnmower
If you have to cover a small surface area, you will need a compact, light and easy-to-use device such as an electric lawnmower, which is ideal for areas up to 800 m².
For working on medium and large-sized lawns, it is better to opt for a petrol-engine lawnmower, which allows you to mow grass effortlessly and fairly quickly. This product range, besides offering models with different power ratings, functionality and cutting width, also generally guarantees high performance, extended working life and efficient operation.

Do you have limited time and experience in looking after gardens? Then you could consider buying a robot lawnmower, which will enable you to automate garden maintenance tasks.

If you need to work on very large surface areas, the best option is to buy a garden tractor, which will enable you to cover large areas in total comfort and safety, and particularly a professional all-terrain garden tractor, which is strongly recommended for clearing overgrown areas and generally for all sites cluttered with very dense vegetation.Do you have to work on a broad expanse of terrain that is full of slopes and uneven patches? If so, the best solution is a self-propelled lawnmower: resistant to impacts and corrosion, they are suitable for clearing along the borders of rows and ditches, thanks to the side discharge.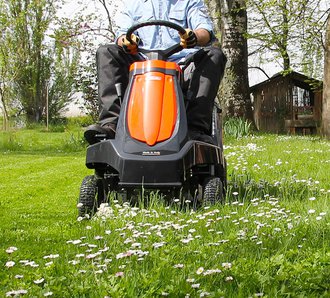 Specific features and warnings

If you find yourself having to work on broken terrain or in particularly rough weather conditions, it is a good idea to opt for a machine with specific features.For example, if you have a terraced garden, you might want to buy a lightweight machine with a folding handle to help you carry it around. If you are likely to be working in the rain, or cutting grass treated with fertiliser and other liquids, we suggest you choose a device with a plastic body, to prevent scratches or rust.
Other devices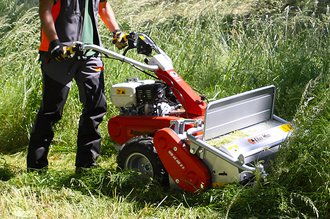 When weed and scrub growth gets out of hand, using a lawnmower is no longer sufficient. You need to use a wheeled brushcutter or a flail mower with high cutting power and rugged construction, which enable you to work on uneven areas such as roadside verges, uncultivated areas or sloping ground. They are also ideal for removing grass, branches, vegetation and low stubble when clearing undergrowth and ditches.